UNMC forensic DNA analyst testifies at Boswell trial
Friday began the DNA analysis of evidence that was collected on the various scenes throughout the investigation into Sydney Loofe's disappearance, death and body discovery.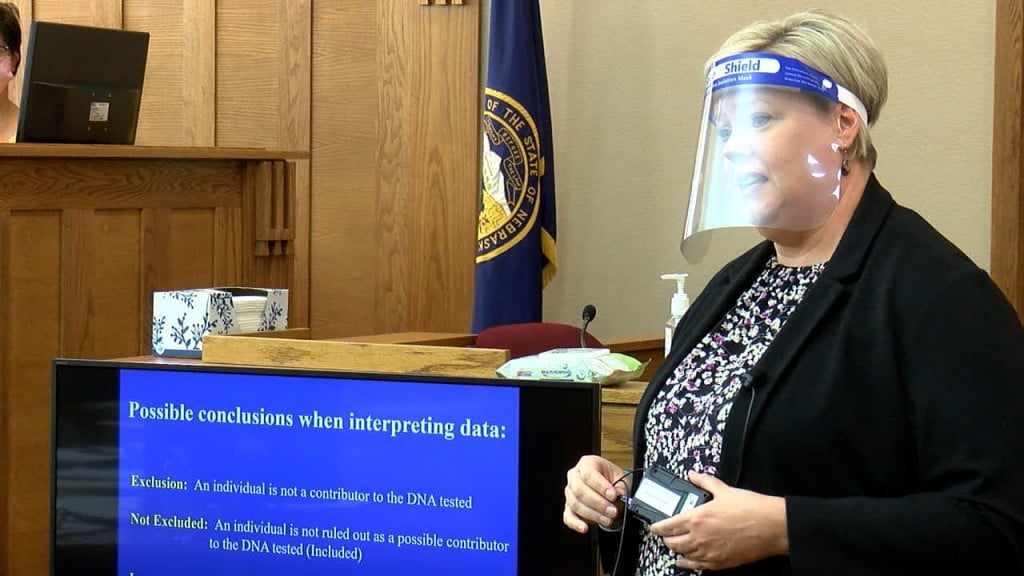 LEXINGTON, Neb. (KLKN) – Friday morning, witnesses called by the prosecution continued their testimony at the Bailey Boswell trial taking place at the Dawson County courthouse.
Friday's testimony included a DNA forensic analyst from the University of Nebraska Medical Center. The first DNA analyst to testify in the trial so far.
The first witness called to the stand Friday was Lt. Lonnie Connelly with the Nebraska State Patrol. The prosecution asking Connelly about his involvement in the searched for Sydney Loofe's body.
Lt. Connelly testified that on December 8, 2017, he drove the route from Wilber to Clay County that Boswell and Trail's cell phones took according to cell phone data discovered by LPD Investigator Bob Hurley.
Connelly testified to obtaining six pieces of evidence while driving the route; a large green t-shirt, two socks, a Bearpaw boot, men's underwear and a glove. When the prosecution asked about the t-shirt, Connelly said it appeared to have bleach stains.
Todd Lancaster for Boswell's defense objected to the use of bleach, based on speculation and foundation. After a short back and fourth about Connelly's experience with bleach and the effects it has on clothing, he was excused.
Up next was UNMC forensic DNA analyst Mellissa Helligso. Her testimony began with a PowerPoint presentation about DNA as well as the process she uses when testing and identifying DNA samples.
At the beginning of Sydney Loofe's case, Helligso was given Loofe's toothbrush and razor from her apartment in order to collect her DNA, which would be used to later compare with evidence.
The first piece of evidence given to Helligso were Aubrey Trail's boots that were obtained during his arrest in Branson, Missouri. On the boots, Helligso found blood, and when tested, that blood had no relation to Loofe's DNA profile, and matched with Trail's DNA profile.
Helligso was given evidence that was taken from Aubrey Trail's car, a Ford 500, that officials say was used when they were disposing of her body. From the car she was given sheets, blankets and hairs, but none of these produced a DNA sample that matched Loofe's profile. However, Helligso says that some of the hairs did not contain enough DNA for her to test.
Mike Guinan of the prosecuting party then asked Helligso about her analysis of the 4-XLT green t-shirt that was found by Lt. Connelly on December 8, 2017.
"On the green shirt I swabbed the inside neck and the shoulder areas," Helligso testified. "OK and why would you swab that area?" Guinan asked. "That's usually the area I swab when trying to determine who wore the shirt," Helligso responded.
The DNA collected showed that there were multiple DNA partial DNA contributors, one of which was very likely to be Trail.
"The DNA profile is at least 35,100 times more likely than if it originated from Aubrey trail and one unknown, unrelated individuals than if it originated from two unknown, unrelated individuals," Helligso said.
When Helligso tested the samples with both Trail and Bailey Boswell's DNA, which was obtained by the FBI, she found that it was 326,000 times more likely to be Trail and Boswell's DNA than anyone else's.
After close to an hour and a half on the stand, Helligso was excused and court was adjourned for the weekend.