UPDATE: Trial adjourns after Aubrey Trail slices own throat in court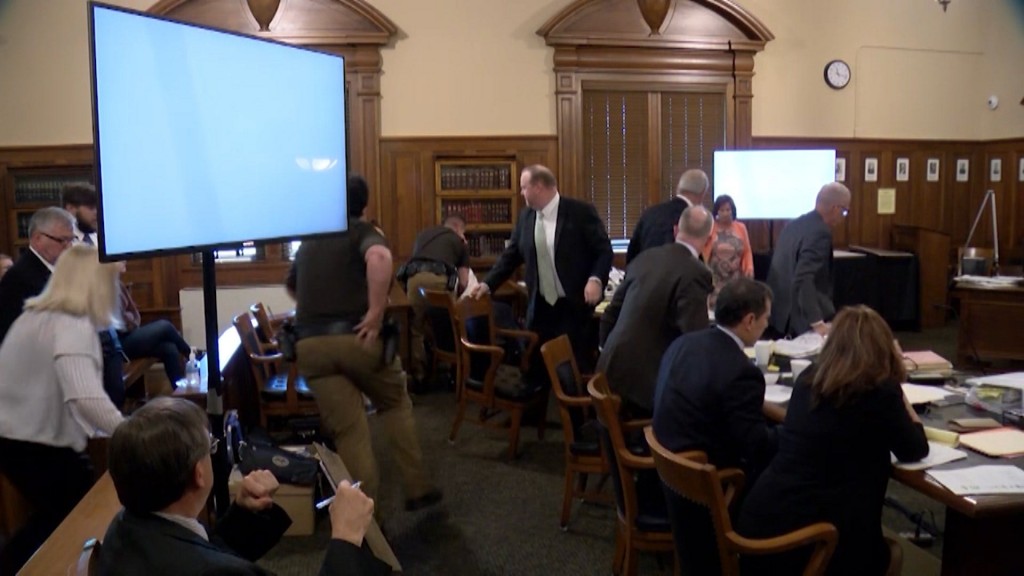 UPDATE:
It was pandemonium in the Saline County Courtroom on the sixth day of the Aubrey Trail trial.
The accused killer of Lincoln Woman Sydney Loofe cut his own throat in court Monday morning.
It happened just before 11:30 a.m. As prosecution was calling its next witness, Trail shouted "Bailey is innocent and I curse you all."
Members of the Saline County Sheriff's Office swarmed Trail as he swiped at his neck with an unknown object.
He was transported by ambulance to a local medical center.
Court went back in session at 2 p.m. That's when Judge Vicky Johnson announced Trail was in custody and ordered that he be handcuffed for the remainder of his trial appearances.
She told jurors to disregard Trail's outburst and not consider it as evidence in the case.
Still no word on Trail's condition or what object he used to cut himself with. Channel 8 Eyewitness News is looking into how he brought it into the courtroom.
The trial is set to resume Tuesday morning.
__________________________________________________________________________________________
Channel 8 Eyewitness News Photographer Lee Marion was looking right at Trail when he slashed his throat. Marion was only five to six feet away from Trail when it happened. Marion said Trail used a razor like you would see on a box cutter to cut himself. We will have more with Marion tonight at 5, 6 and 10 P.M.
Previous Story:
Judge Vicky Johnson says court has been adjourned for the rest of Monday, and that Aubrey Trail is in custody.
Johnson said she will order Trail to be kept in handcuffs for the remainder of the trial.
Officials did not provide an update on Trail's condition.
Johnson said the trial is scheduled to resume tomorrow.
---
A man accused of the murder and dismemberment of a Lincoln woman sliced his throat in court Monday morning.
A Channel 8 Eyewitness News reporter in the Saline County court room where Aubrey Trail, accused along with Bailey Boswell of murdering Sydney Loofe, said Trail cut his throat with an object several times.
It happened as a witness was coming up to the stand to testify. Before the act, Trail yelled, "Bailey (Boswell) is innocent and I curse you all," our reporter said.
Security officers swarmed Trail and took him out of the room. It is unclear to what extent Trail is injured, but our reporter saw blood coming out of his neck.
This is a developing story, we will continue to provide updates as they become available.