Update: Man in serious condition after accident shuts down 'O' Street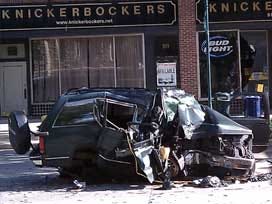 Lincoln Police say the man involved in Thursdays accident on "O" street suffered some type of medical episode causing him to lose control of his vehicle.
47-year old Robert Wylie is in critical but stable condition after his SUV smashed into a light pole in downtown Lincoln. It happened at the beginning of the afternoon commute… Shutting down the intersection at 9th and "O". People in the downtown area say it sounded like a bomb went off, but when they looked out their windows they say they were shocked by what they saw.
An almost unrecognizable Chevy Blazer sat mangled in one of the busiest parts of town after police say the driver was speeding, lost control of his vehicle and hit this pole. Ron Lockard saw it all happen and was the first person on the scene. "I jumped out of the car and ran over there immediately, checked the passenger side, to see if there was anyone in the car, nobody there, went to the drivers side, he was sitting there hanging out of the car, the seatbelt had him wrapped by his neck," Lockard said.
Lockard says adrenaline kicked in and, he got him out of the seatbelt…and with the help of another man pulled him from the SUV. "But he was unresponsive wouldn't squeeze my hand, but he was breathing and had a pulse," Lockard said.
Lockard kept trying to get the driver to talk or respond…fearing for the worst. "I was really focused on him because he wasn't responsive and I was concerned he was going to die on us right there before the meds got there," Lockard said.
Eyewitnesses say, when the car hit the light pole, the impact shatter the windows at Knickerbockers, sending glass all throughout the store, luckily though no one inside was hurt. Lockard who is in town visiting his daughter says he says he rushed to help without thinking twice. A gut reaction that led him to save a total stranger. "Had to get his weight of that seatbelt around his neck, in that kind of state how long can you go without breathing without any air, probably not very long," Lockard said.
Lincoln Police say at last check the driver was in critical but stable condition. The street light he hit will actually have to be replaced, so you may need to look for a different route if you're going to be in that area.