UPDATE: Former Huskers appear in court on sex assault allegations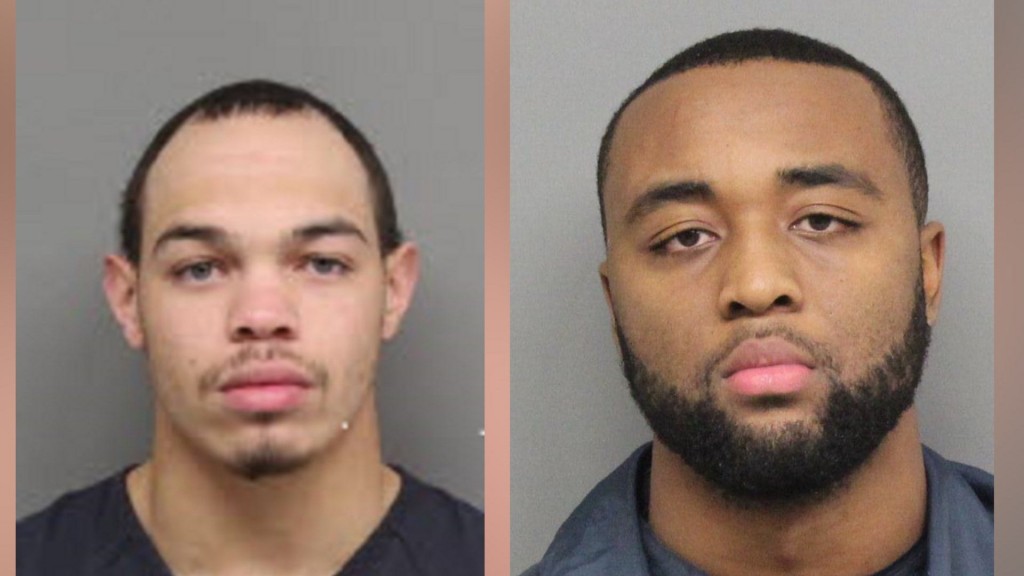 Two former University of Nebraska-Lincoln football players appeared in court Wednesday afternoon.
The two men, Katerian Legrone (right) and Andre Hunt (left) , were booked in Lancaster County Jail Tuesday. Legrone was arrested for first-degree sexual assault. Hunt was arrested aiding and abetting first-degree sexual assault.
Both appeared briefly in court via video monitor, though neither were formally charged. A judge set bond for Legrone at $50,000. An attorney from Berry Law Firm appearing on his behalf argued against bond, saying prosecutors had months to decide whether to charge him.
The judge set a $100,000 personal recognizance bond for Hunt, which means he would not have to pay to be released so long as he promises to appear in court again on December 20.
Officer Luke Bonkiewicz said the investigation began August 25 after the alleged victim reported being sexually assaulted at an off-campus apartment complex. Legrone and Hunt were suspended indefinitely from the Husker football program three days later. They were arrested Tuesday night at their residence.
Coaches, as well as Nebraska Athletic Department and UNL officials, declined to comment on the suspensions. Both were redshirt freshman. Hunt took snaps at wide receiver during Nebraska's Spring Game in April. Legrone was a tight end. Both players entered their names into the NCAA transfer portal on Friday.
Bonkiewicz said the investigation was "meticulous and independent," and that the timing of the arrests was not influenced by any external factors.
"The Lincoln Police Department has conducted this investigation as we would any other. That is, we conduct objective, meticulous investigations, independent of any outside influence or pressure," he said.
Bonkiewicz said it is not uncommon for major felony cases to take several months to develop to the point where an arrest is made.
Police said additional details about the case would not be released until after charges are formally filed by the Lancaster County Attorney's Office. Channel 8 Eyewitness News made repeated attempts to speak with Lancaster County Attorney Pat Condon about the case, which went unanswered.
Attorneys for both Legrone and Hunt told Channel 8 Eyewitness News their clients "did nothing wrong." They called situation a case of "buyer's remorse."
As of late Wednesday night, Andre Hunt had been released from the Lancaster County jail but Katerian Legrone remains in jail.