U.S. officials: 11 Marines and Navy medic killed in Afghanistan bombing
They said another 12 service members were wounded. Afghan officials say 60 Afghans were killed and another 143 wounded.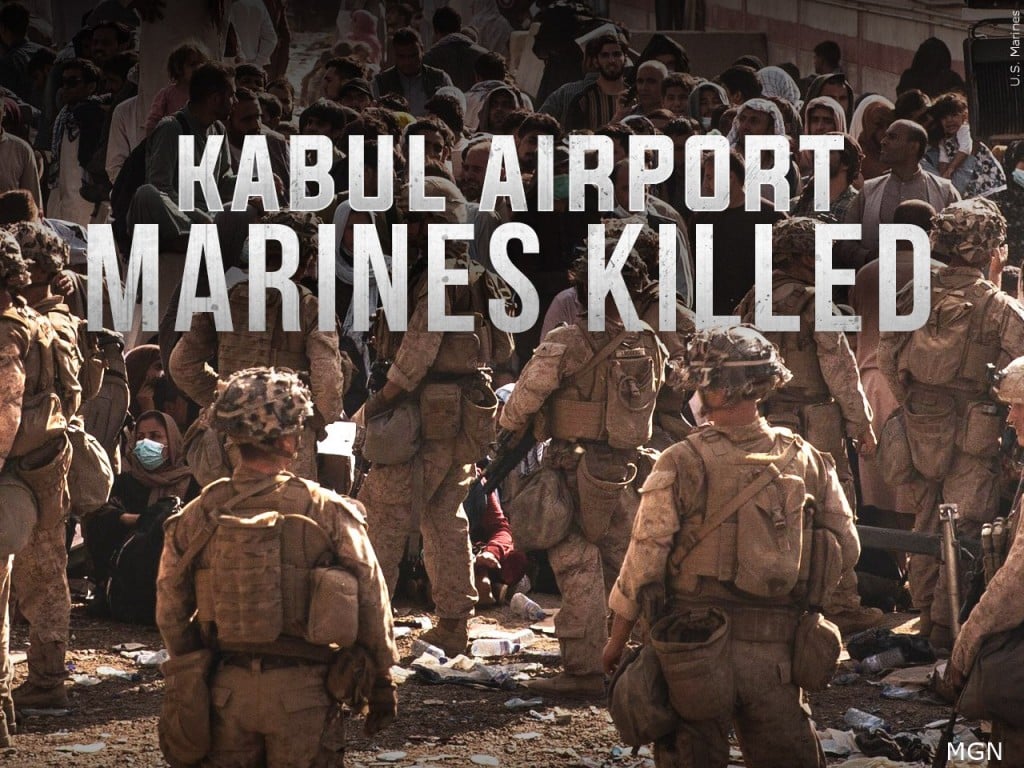 KABUL, Afghanistan (AP) —  Two suicide bombers and gunmen attacked crowds of Afghans flocking to Kabul's airport Thursday, transforming a scene of desperation into one of horror in the waning days of an airlift for those fleeing the Taliban takeover.
U.S. officials say at least 12 U.S. service members were killed, 11 Marines and one Navy medic.
They said another 12 service members were wounded and warned the toll could grow.
An Afghan official says at least 60 Afghans were killed and another 143 were wounded in the attack outside the Kabul airport.
A U.S. official said the complex attack was believed to have been carried out by the Islamic State group. The IS affiliate in Afghanistan is far more radical than the Taliban, who recently took control of the country in a lightning blitz and condemned the attack.
Western officials had warned of a major attack, urging people to leave the airport, but that advice went largely unheeded by Afghans desperate to escape the country in the last few days of an American-led evacuation before the U.S. officially ends its 20-year presence on Aug. 31.
Emergency, an Italian charity that operates hospitals in Afghanistan, said it had received at least 60 patients wounded in the airport attack, in addition to 10 who were dead when they arrived.
"Surgeons will be working into the night," said Marco Puntin, the charity's manager in Afghanistan. The wounded overflowed the triage zone into the physiotherapy area and more beds were being added, he said.
The Afghan official who confirmed the overall Afghan toll spoke on condition of anonymity because he was not authorized to brief media.
Pentagon spokesman John Kirby said one explosion was near an airport entrance and another was a short distance away by a hotel.
Even as the area was hit, evacuation flights continued to take off from Kabul airport.
Adam Khan was waiting nearby when he saw the first explosion outside what's known as the Abbey gate. He said several people appeared to have been killed or wounded, including some who were maimed.
The second blast was at or near Baron Hotel, where many people, including Afghans, Britons and Americans, were told to gather in recent days before heading to the airport for evacuation.
A former Royal Marine who runs an animal shelter in Afghanistan says he and his staff were caught up in the aftermath of the blast near the airport.
"All of a sudden we heard gunshots and our vehicle was targeted, had our driver not turned around he would have been shot in the head by a man with an AK-47," Paul "Pen" Farthing told Britain's Press Association news agency. Farthing is trying to get staff of his Nowzad charity out of Afghanistan, along with the group's rescued animals.
In Washington D.C., President Biden spent much of the morning in the secure White House Situation Room where he was briefed on the explosions and conferred with his national security team and commanders on the ground in Kabul.
Overnight, warnings emerged from Western capitals about a threat from IS, which has seen its ranks boosted by the Taliban's freeing of prisoners during its advance through Afghanistan.
Shortly before the attack, the acting U.S. ambassador to Kabul, Ross Wilson, said the security threat at the Kabul airport overnight was "clearly regarded as credible, as imminent, as compelling." But in an interview with ABC News, he would not give details.