Sailors spend time above sea level with students at Everett Elementary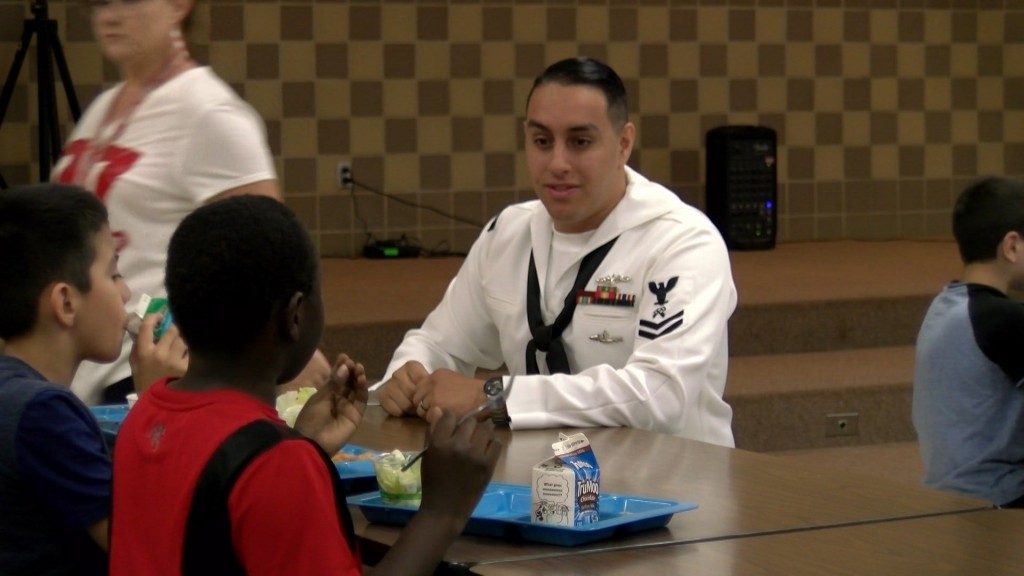 sTUDENTS ATE LUNCH AND TALKED WITH sailors from the USS Nebraska AT EVERETT ELEMENTARY on Friday.
KIDS ASKED THE SAILORS QUESTIONS ABOUT THEIR LIVES AND JOBS AT SEA.
ONE SAILOR said HE HOPES THE CONVERSATIONS spark INTEREST IN both THE NEBRASKA and Navy.
"Hopefully we can be some sort of influence, you know, even if just one kid comes up and says 'I want to be a sailor one day,' that would make my day," said William Hawm, a torpedoman for the USS Nebraska.
The SAILORS ALSO SPOKE TO CHILDREN IN CLASSROOMS, ANSWERING MORE QUESTIONS.
THE BIG RED SUB CLUB coordinates local events for the sailors and ENCOURAGES THE SEAMEN TO INTERACT WITH STUDENTS, CIVIc GROUPS, AND SPEND TIME ON LAND IN THE STATE for which their submarine is named.
"it's an opportunity for young people to meet those who serve our country but more importantly for our navy people to get to interact with school kids to encourage hard study and hard work and to become very good citizens," said Allen Beermann, a volunteer for Big Red Sub Club.
Beerman says the CLUB WAS FORMED SO THE SEAMEN COULD BE STEEPED IN Nebraska STATE CULTURE and reminded that NEBRASKANS APPRECIATE THEIR WORK.
THIS IS THE SECOND TIME THE SAILORS HAVE VISITED Everett. They'LL also TOUR LINCOLN, ATTEND A Huskers FOOTBALL GAME AND MORE BEFORE RETURNING TO THEIR DUTIES.