Video of maskless Gov. Ricketts draws attention on Twitter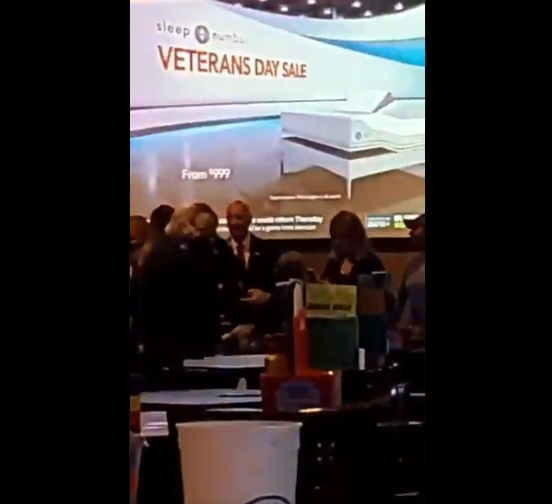 LINCOLN, Neb. (KLKN) – A video of Governor Ricketts with no mask on at a sports bar on election night has been circulating on social media.
Single mother, Karina Montanez, was serving at DJ's Dugout in Bellevue on November 3rd when she noticed a familiar face, Governor Ricketts. Montanez said she did notice him wear a mask when he walked into the sports bar, but took it off when he got to his table in the restaurant. The Governor was said to be attending an election watch party for Sen. Rita Sanders that Tuesday. Montanez quickly took a video of the Governor not wearing a mask and surrounded by others not wearing masks on her cell phone and posted it to her personal Twitter account.
In the 17-second video, the Governor is standing and talking with numerous people, while Montanez says in the background, "Where's your mask, Pete? What are you doing, Pete? We're in a pandemic, Pete."
CAUTION when viewing Tweet, explicit language.
It wasn't till two weeks later, Tuesday the 17th, the tweet gained a lot of attention. Montanez said she received a phone call that same day from her boss, letting her go from her serving position at the sports bar. According to Montanez, management told her she violated the cellphone policies at work, a place she has spent almost three years working at.
Montanez said she posted the video in the moment because she was upset.
"Here is our Governor that is in charge and in control of how our state is controlling COVID-19 and here he is like a celebrity taking pictures and holding a baby while people are fighting for their lives," Montanez said.
After Montanez was fired from her job, she went back to Twitter and commented her Cash App and Venmo usernames, asking for donations. She said it was all a joke when she tweeted it, but to her surprise, she has had over $2,000 dollars in donations.
"Thank you, I am very thankful and very blessed with all the support I have received," she said.
The Governor's Office released a statement regarding the video saying Ricketts was wearing a mask when he entered and exited the sports bar on election night, as is required under Omaha's mask mandate. Taylor Gage, the Governor's spokesman, also added Ricketts removes his mask temporarily for pictures and he did so that evening. He also removed his mask when sitting down at his table election night. According to Gage, rules don't require people to wear masks when seated in bars or restaurants to eat or drink.