'VOTE, VOTE, VOTE': Highlights from the 2020 First Presidential Debate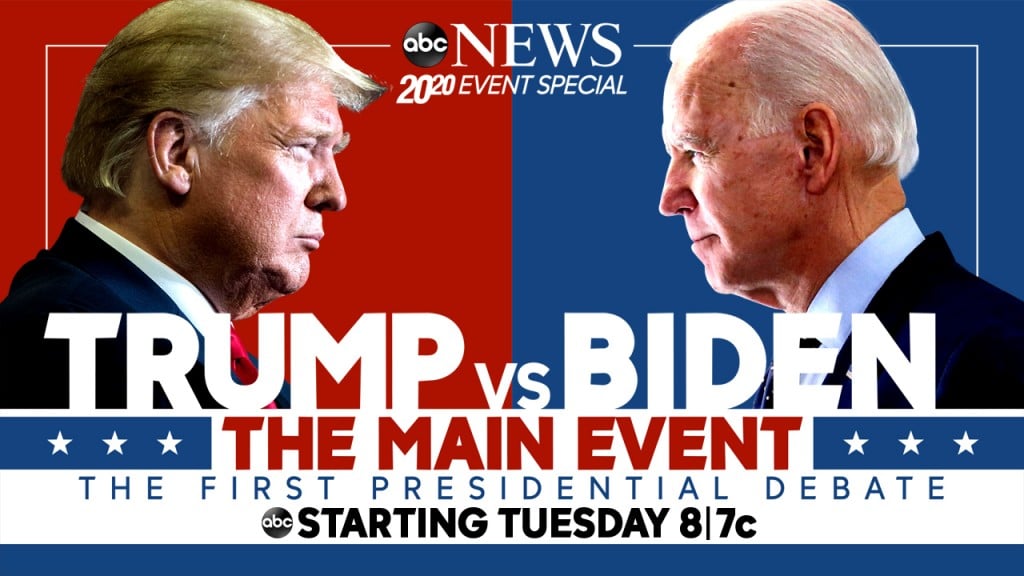 CLEVELAND, Ohio (KLKN) — The final subject facing our candidates, election integrity.
Both parties argued the reliability of mail-in ballots, in particular, with both accusing their opposition of foul play.
But, the biggest take away? A call to action to exercise your right and vote.
"Show up and vote," said Biden. "You will determine the outcome of this election. Vote, vote, vote."

The Second Presidential Debate is scheduled for Thursday, Oct. 15.
Stay up-to-date on your election news with Channel 8 Eyewitness News.
---
With wildfires raging across the nation and hurricanes hitting our coasts, Moderator Chris Wallace brought the subject of climate change into the debate.
In response to the wildfires, President Trump said, "you need forest management in addition to everything else. The forest floors are loaded up with trees, dead trees that are years old and they are like tinder, and leaves and everything else. You drop a cigarette in there, the whole forest burns down."
However, the most notable response was from Former Vice President Biden, whose Democratic party commonly asserts the need for climate change.
While this subject was being debated, the Green New Deal became a point of discussion. At first, Former Vice President Biden's comments seemed to support this bill saying it would "pay for itself as we move forward."
But, when asked point-blank by Wallace whether he supported the Green New Deal, Biden stated that he did not.
 "No, I don't support the Green New Deal," said Biden. "I support the Biden plan that I put forward, which is different than what he calls the radical Green New Deal."
---
Next both candidates defend their record in government.
President Trump staking his superiority in experience.
"There has never been an administration or president who has done more than I've done in a period of three and a half years, and that's despite the impeachment hoax, and you saw what happened today with Hillary Clinton, where it was a whole big con job," said President Trump. "But despite going through all of these things where I had to fight both flanks, and behind me and above, there has never been an administration that has done what I've done. The greatest — before COVID came in —  the greatest economy in history. Lowest employ — unemployment numbers. Everything was good, everything was going — and by the way, there was unity going to happen."
While Former Vice President Biden highlighted his track record as a part of the Obama administration.
"Under this president, we have become weaker, sicker, poorer, more divided, and more violent," said Biden. "When I was vice president, we inherited a recession, I was asked to fix it, I did, we left him a booming economy, and he caused a recession. With regard to being weaker, the fact is that I've gone head-to-head with Putin and made it clear to him we are not going to take any of his stuff. He is Putin's puppy."
---
Moving forward, both candidates began attacking their opposition families. The moderator interrupted and attempted to focus the debate on the next topic of racial injustice.
Former Vice President Biden – "It's about equity and equality. It's about decency. It's about the Constitution. And we have never walked away from trying to acquire — require equality for everyone, equality for the whole of America. But we have never accomplished it, but we've never walked away from it like he has done."
President Trump – "You [Biden} did a crime bill, 1994, where you call them 'super predators,' African-Americans, super predators, and they've never forgotten it. They've never forgotten it, Joe… So you did that, and they call you a super predator. And I'm letting people out of jail now that — you have treated the African-American population, community — you have treated the Black community about as bad as anybody in this country."
---
Mid-way through the debate, tensions continue to rise between the podiums.
The moderate begins a discussion on our current economy, and how it is recovering faster than expected since the pandemic.
President Trump – "When the plague came in, we closed it down which was very hard, psychologically, to do. He didn't think we should close it down. And he was wrong. And again, 2 million people would be dead now instead of, still, 204,000 people is too much. One person is too much. It should have never happened from China. But what happened is, we closed it down and now we're reopening, and we're doing record business. We had 10.4 million people in a four-month period that we've put back into the workforce. That's a record, the likes of which nobody's ever seen before, and he wants to close down the — he will shut it down again. He will destroy this country… They're hurting people. People know what to do. They can social distance, they can wash their hands, they can wear a mask. They can do whatever they want, but they gotta open these states up. "
Former Vice President Biden – "The fact is, that he has in fact worked on this in a way that he's going to be the first president of the United States to leave office having fewer jobs in his administration than when he became president. Fewer jobs, than when he became president. First one in American history. Secondly, the people who have lost their jobs are those people who have been on the front lines, those people who have been saving our lives. Those people who have been out there dying. People who have been putting themselves in the way to make sure that we could all try to make it, and the idea that he is insisting that we go forward and open when you have almost half the states in America with a significant increase in COVID deaths and COVID cases in the United States of America."
---
After the questions concerning the Supreme Court nomination quickly spiraled into a heated dispute over the American healthcare system, Wallace moved to the next topic: COVID-19.
Wallace asking, "based on what you have said and done so far, and what you have said you would do starting in 2021, why should the American people trust you more than your opponent to deal with this public health crisis…?"
Former Vice President Biden – "The President has no plan. He hasn't laid out anything. He knew all the way back in February how serious this crisis was. He knew it was a deadly disease. What did he do? He's on tape as acknowledging he knew it, he said he didn't tell us or give people a warning of it because he didn't want to panic the American people. You don't panic, he panicked."
President Trump – "You didn't think we should have closed our country, because you thought it was too, it was terrible. You wouldn't have closed it for another two months. By my doing it early — in fact, Dr. Fauci said, 'President Trump saved thousands of lives.' Many of your Democrat governors said, 'President Trump did a phenomenal job.' We worked with the governors — Oh, really, go take a look. The governors said I did a phenomenal job, most of them said that. In fact, people that would not be necessarily on my side said that 'President Trump did a phenomenal job.' We did. We got the gowns, we got the masks, we made the ventilators. You wouldn't have made ventilators. And now, we're weeks away from a vaccine. We're doing therapeutics already. Fewer people are dying when they get sick. Far fewer people are dying. We've done a great job."
---
Due to health concerns, the candidates will not shake hands at the start of the debate.
The first topic is set up by Chris Wallace, focusing on the Supreme Court, specifically Trump's recent Supreme Court nominee Amy Coney Barrett.
Trump asserts the "Constitution is clear" and that it is his right to nominate Ruth Bader Ginsburg's successor. However, Biden disagrees, asserting that the nomination should be delayed until after the upcoming presidential election.
Wallace asks, "Why are you right in the argument you make, and your opponent wrong and where do you think a Justice Barrett would take the court?"
President Trump – "I will tell you very simply, we won the election. Elections have consequences. We have the senate, we have the white house and we have a phenomenal nominee, respected by all, top, top academic… She's going to be as good as anybody that has served on that court. We really feel that. We have a professor at Notre Dame, highly respected by all, said she's the single greatest student he's ever had. He's been a professor for a long time at a great school. And we just — we won the election, and, therefore, we have the right to choose her and very few people knowingly would say otherwise."
Former Vice President Biden – "The American people have a right to have a say in who the Supreme Court nominee is, and that say occurs when they vote for a United States Senator and when they vote for the President of the United States. They're not going to get that chance now, because we're in the middle of an election already. The election has already started. Tens of thousands of people have already voted. And so the thing that should happen is, we should wait."
---
Tune in tonight at 7 to watch as President Donald Trump and Former Vice President Joe Biden face off for 2020's First Presidential Debate, right here on KLKNTV.com.
The event will start off with a Special Edition of 20/20, "Trump vs Biden: The Main Event" from 7 to 8 p.m. Following this, the official debate will kick off from 8 to 9 p.m. for ABC's News Special "The First Presidential Debate — Your Voice Your Vote 2020."
RELATED CONTENT: Q&A: What you need to know before tonight's debate
RELATED CONTENT: How Trump, Biden are preparing for Tuesday's presidential debate