Winter Storm Warning issued as major storm heads toward Lincoln area
The warnings go into effect early Monday morning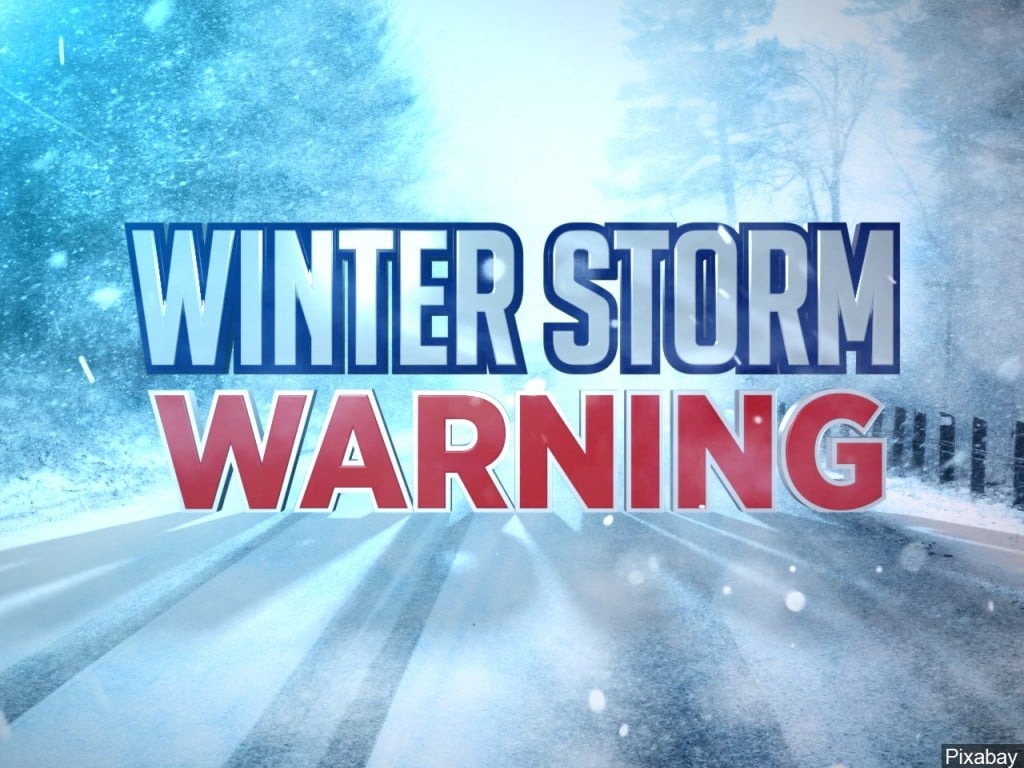 LINCOLN, Neb, (KLKN) – UPDATE 10:50 P.M. SUNDAY: I've made a few minor tweaks to the snow forecast. Upping the totals for extreme southeast Nebraska. Current thinking is we could see 10″ to 15″ through Tuesday morning.
I still believe there could be a band of higher snow totals that could reach 16″ to 20″. That band may shift from tonight's forecast.
This looks to be the highest 1-day total in Lincoln since February 4, 2012 and could end up ranking in the Top 5 1-day snow totals since 1948.
It is important to know that you are not likely to wake up to the big snow totals, so don't be disappointed. The amount of snow on the ground for the morning commute will be small compared to the evening commute.
To be honest, the evening commute does not look good. I urge you to stay home if you can. There will likely be an additional 8″ to 11″ of snow on the ground compared to the morning commute in Lincoln.
If you have to travel to Omaha, the roads will probably not be good for the drive back.
My suggestion, sit back and enjoy watching the snow fall out your window!
– Chief Meteorologist John Dissauer
Follow John on social media:
Twitter: @JohnDissauer
Facebook: /DissauerWx
UPDATE 6:49 P.M. SUNDAY: Everything is still a "go" for Monday's snow. Computer models continue to advertise snow arriving from the south Monday morning, crossing the Kansas/Nebraska state line around 5 a.m. The snow will spread north through the morning, reaching I-80 by 7 a.m.
I am not expecting big snow totals during the morning. It will be a different story for the afternoon.
Snowfall rates will quickly increase by early afternoon, continuing through late afternoon and to the evening rush. I do think 1″ to 2″ per hour snowfall rates will be possible in parts of southeast Nebraska between Noon and 5 p.m.
By the time we get to late evening falling snow should begin to decrease.
HOW MUCH SNOW?
What everyone wants to know. "How much are we getting?" The western and northern part of the state will have little snow from this storm. The brunt of it will be felt over the southeast half.
This looks to be a a big snow for the southeast corner of the state. 9″ to 14″ of snow is expected south of a line from Omaha to Red Cloud. Right now I think the heavy snow bullseye is along a band between Lincoln and Beatrice. I will not be surprised to hear a 16″ to 20″ snow amount reported.
Keep in mind, even a 20-30 mile wobble could have a big impact on snow totals across the area.
FREAK OUT METER
Monday's storm has the potential to produce a Top 5 one-day snows since 1948 in Lincoln. This could also set a record one-day snow record in Beatrice. Because of the rarity of big snows like this, and because it could also be the biggest one-day snow for the capital city in nearly 9 years, I have my Freak-Out-Meter at a high 6 out of 10.
– Chief Meteorologist John Dissauer
Follow John on social media:
Twitter: @JohnDissauer
Facebook: /DissauerWx
UPDATE 8:12 A.M. SUNDAY: A Winter Storm Warning for southeast/south-central Nebraska will be in effect from 6 a.m. Monday through 3 a.m. Tuesday. The Winter Storm Warning replaces the previously issued Winter Storm Watch.
Snow is expected to move in to southern Nebraska shortly before sunrise Monday. It will continue to fall through the day, becoming heavy late morning through afternoon.
There will likely be a large range in snow totals across the Channel 8 viewing area, ranging from a dusting to some locations picking up 14″+ by early Tuesday morning. At this point it looks as though Monday's snowfall could rank in the Top 5 highest one-day totals since 1948 in Lincoln.
Travel is not advised Monday, especially after 10 a.m. Monday. This storm will have major to extreme impacts on southeast Nebraska, northern Kansas, and Iowa Monday and Tuesday. Travel along I-80 could be extremely difficult and is not advised.
This is still an evolving forecast so be sure to check back throughout the day on KLKNTV.com, on Channel 8, and be sure to follow us on social media.
– Chief Meteorologist John Dissauer
Twitter: @JohnDissauer
Facebook: /DissauerWx
ORIGINAL STORY 4:41 A.M. SUNDAY: The Storm Alert Team is tracking a major winter storm poised to potentially drop record snowfall in the area Monday. The National Weather Service has issued WINTER STORM WARNINGS that go into effect overnight Monday.
Roads are still snow-covered from Saturday's snowfall and crews are working to treat the trouble spots ahead of the bigger system moving in.
For Saline, Jefferson, Gage, Johnson, Nemaha, Pawnee, and Richardson counties the WINTER STORM WARNING goes into effect at 3 am Monday until 3 am Tuesday.
For Pottawattamie, Mills, Montgomery, Fremont, Page, Douglas, Sarpy, Seward, Lancaster, Cass, and Otoe counties the WINTER STORM WARNING is in effect from 6 am Monday until 3 am Tuesday.
This is starting to look like Monday's snow could be the highest 1-day snow in #Lincoln in nearly 9 years. February 4, 2012 the capital city had 11.1″.#NEwx | #LNK | @Channel8ABC

— John Dissauer (@johndissauer) January 24, 2021
MORE: Storm Alert Team Weather
MORE: School & Business Closings
FOLLOW US ON SOCIAL MEDIA:
Chief Meteorologist John Dissauer
NEBRASKA ROADS
CITY/COUNTY SNOW INFO
City of Lincoln Snow Information
Lancaster County Winter Storm Information
Crete Winter Weather Resource Guide