Women speak out against Tecumseh State Correctional Institution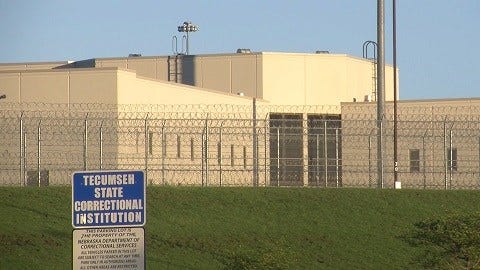 WOMEN WHO DO NOT WANT TO BE IDENTIFIED ARE SPEAKING OUT ABOUT THEIR LOVED ONES IN PRISON AND THE HORRIBLE CONDITIONS THEY ARE LIVING IN AT THE TECUMSEH STATE CORRECTIONAL INSTiTutION ON THURSDAY.
A SISTER OF AN INMATE THERE SAYS HE AND OTHERS ARE IN THEIR CELLS FOR 24 HOURS WITHOUT THEIR YARD AND SHOWER PRIVILEGES.
"by law you're supposed to have an hour out every day," said the sister who wants to remain anonymous. "they're saying it's because they are short staffed but yet they can't rearrange for somebody to go down there for at least an hour so these guys can shower?"
A SECOND WOMAN, who remains anonymous, ADDS THAT HER FIANCE HAS BEEN DENIED PHONE PRIVILEGES AND HAS BEEN TAKING BIRD BATHS TO GET BY.
"He said that the night before, he had to take a bird bath in the sink." added the second woman. "They weren't letting him shower. He felt disgusting."
NOT ALL INMATES IN THE PRISON ARE ENDURING THESE CONDITIONS, JUST MEMBERS OF A HIGH-SECURITY BLOCK.
THE FIRST WOMAN added SHE CALLED THE PROPER Authorities BUT HAS NOT GOTTEN A RESPONSE.
"I've called the jail, left numerous messages with the director scott franks and he's not yet to return one of my phone calls."
INSPECTOR GENERAL OF CORRECTIONS DOUG KOEBERNICK TOLD CHANNEL 8 THAT HE HAS PERSONALLY SPOKE TO INMATES AT THE PRISON AND IS INVESTIGATING THE MATTER.
HE SAID IF THE CONDITIONS ARE TRUE, WHICH HE BELIeVES THEY ARE, THE PRISON WOULD BE VIOLATING ITS OWN POLICIES.
WE REACHED OUT TO CORRECTIONS OFFICIALS AND DID NOT RECeiVE A REsPONSE.
BOTH WOMEN SAID THEY JUST WANT THEIR LOVED ONES TO RECeiVE THE HUMAN RIGHT OF A BATH AND TIME OUTSIDE.