Workers left hanging after scaffolding collapse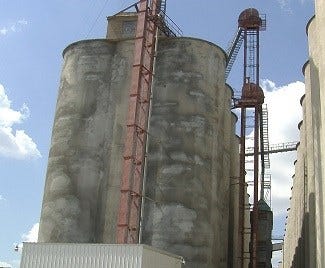 Posted By: Camila Orti
Three restoration workers had a close call Wednesday morning after a scaffolding collapse left them suspended inside a silo.
Some rope and harness saved a restoration crew from falling seven stories to the bottom of a grain elevator. Lincoln Fire and Rescue crews were called to the facility near Cornhusker Highway and State Fair Park Drive around 11 Wednesday morning.
"This is an example of how the safety systems were in place and they minimized what could've been a very catastrophic situation for us," Battalion Chief Leo Benes said.
Officials say the McGill Restoration employees were doing concrete work on the inside wall of the silo when scaffolding they were standing on collapsed from beneath them.
"At this point they're not sure if the cables failed themselves or the motors that drive the lifting mechanism," Benes said.
The three men were left dangling 75 feet in the air by their safety ropes, which were attached to the roof. LFR was there within two minutes but didn't have to go into rescue mode. One by one the workers lowered themselves down.
Officials say it saved the technical rescue team from launching a complicated extrication.
"We were concerned further collapse of their scaffolding structure could possibly injure some of our responders or the workers themselves," Benes said.
Besides some minor injuries, the men were okay. They were pretty shaken up after the incident and declined to comment, but did say the whole thing was very scary.
LFR was training for this exact situation just a few blocks away at the state fairgrounds when they got the call, that's why they were able to get to the scene so quickly, officials say.