Bennet firefighter recovers after unusual car fire explosion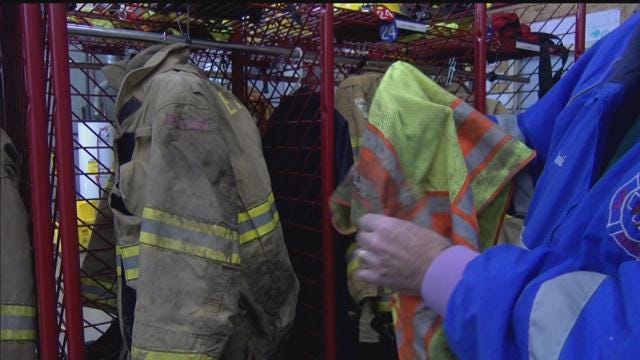 An uncommon car fire occurred in the Bennet Fire District. We caught up with their fire chief to see how a fireman is doing who is injured after battling those flames.
"it was some kind of a explosion in the car, probably a combustible metal and when they go they go," said Tim Norris, Bennet Fire Chief.
According to the Lancaster County Sheriff Department, that metal was a 12–pack of club soda. A 19–year old got stuck in the mud near 190th and Old Cheney on Sunday.
She tried putting the sodas on the gas pedal but when she got out to push the car she was locked out. The teen went to a nearby residence to get help when the car caught fire.
Bennet Fire and Rescue responded around 5:15 p.m. to help control the flames when the unexpected occurred.
Volunteer firefighter Chad Peterson was pushed back from the force of the explosion.
"It sent debris flying toward the volunteer firefighter's direction and caused a medical episode or medical occurrence," said Sergeant Scott Gaston, with the Lancaster County Sheriff Department.
The Lancaster County Sheriff report says Peterson has a mild concussion and bruises, but no life threatening injuries.
He was treated at Bryan West Campus and is now home recovering with his family. Dirt from the accident remains on his uniform as well as the department gear.
Norris says the department will soon have a critical incident stress debriefing to help members deal with the stress of the situation.
"Because one of the things we have to deal with is stress and the accumulation of stress on calls that were on and obviously for our members that were there this was a very stressful situation, seeing something happen to one of our members," added Norris.
While Peterson was not available to interview he sent a message through the fire chief to give thanks to all who helped him.
"He really wanted to say thank you to his crew," said Norris. "They did a great job for him and thanks especially to Shane King who was by his side to whole time after the event happened and to the Sheriff's department. Also was there being a great assistance to our situation."