A special surprise to honor a longtime deputy
A Lincoln family gave back after losing their father. Harry Stewart died last week. He was a Lancaster county deputy for 40 years, and the family wanted to do something special.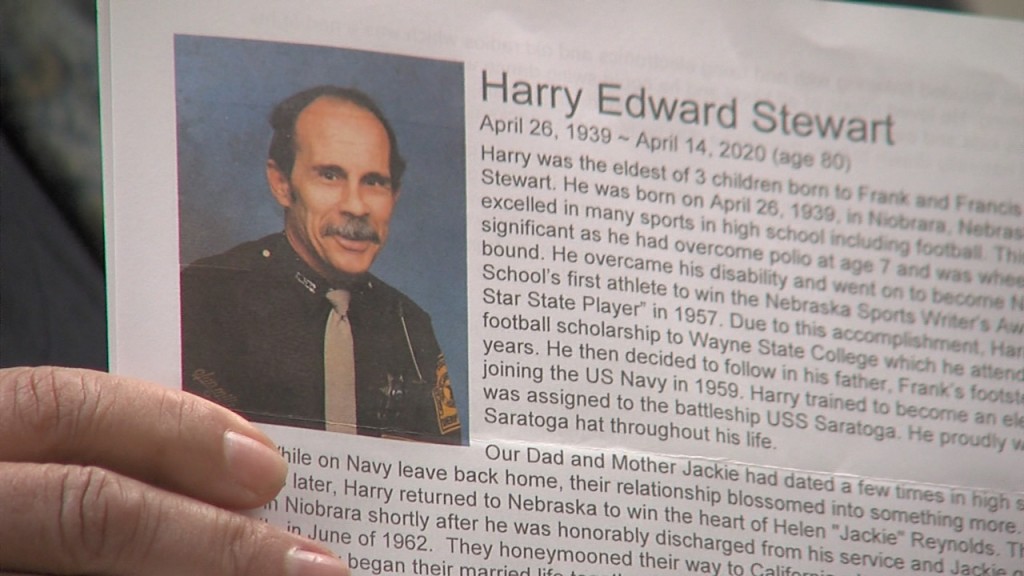 Many will tell you Harry Stewart was your all around stand up deputy, who had a sense of humor and wanted to live life to its fullest.
"One of his favorite things he used to say to some of his coworkers is 'are you ready to be a hero today,'" said Anna Alcalde, daughter of deputy Harry Stewart.
Harry remained on the force for 40 years, and often dedicated his life to the law.
"My dad felt like this was his second family," said Alcalde.
His family decided to give one last gift after his passing on April 14th.
The family managed to deliver 70 of these gift certificates from Valentino's to the local sheriff's office for all the deputies in remembrance of their father.
"We couldn't have a gathering with pizza, because that is against the COVID–19 rules, so we just gave everybody an individual gift certificate for pizza," said Alcalde.
Harry Stewart was often affectionately referred to by his colleagues as "Dirty Harry" based on his compassion for others.
"I just think if you want to honor my dad…this is going to make me cry…just be good to people and treat people with respect. I think that's the best lesson I learned from my dad was nobody deserves more respect than another person," said Alcalde.
In the act of giving, they wanted it to not be about him, but what he represented all along.
"I hope that they realize that the people that are working here, the things that they do and the way that they work with the public and people out there, it affects everybody, and I think that's important to know, you don't thank a police officer often, you don't thank law enforcement very often and I think we need to. They're putting their lives on the line and we appreciate it," said Alcalde.
Our thanks to Harry for all his years of service and all the other law enforcement out there.