Arizona Republican Senator John McCain dead at 81 after battle with cancer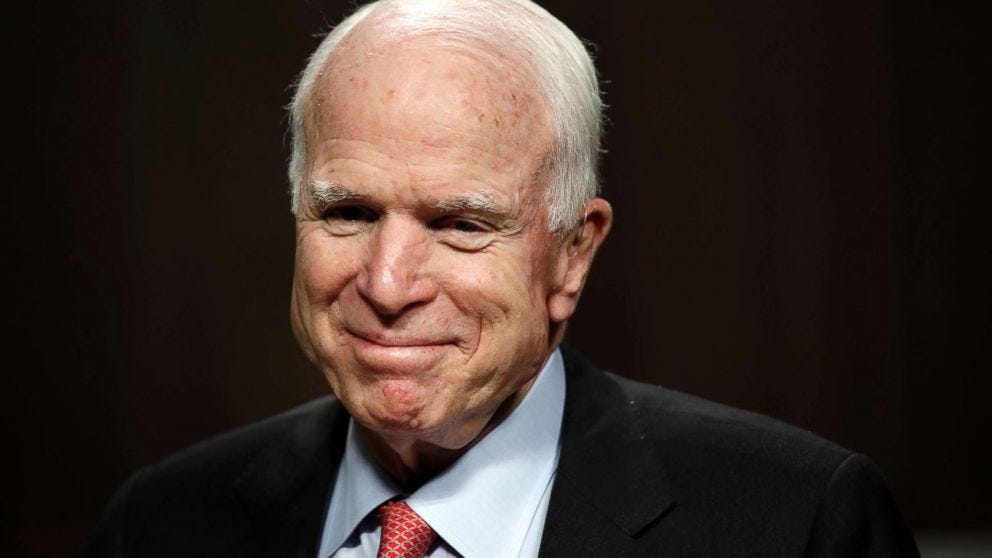 Arizona Republican Senator John McCain has died after battling an aggressive form of brain cancer.
His family said Friday that he had discontinued medical treatment.
The 81-year-old McCain has surpassed expectations for survival, but his family says "the progress of disease and the inexorable advance of age render their verdict."
The six-term GOP senator, whose birthday is Aug. 29, had been away from the Capitol since last December.
McCain was a Vietnam POW, held captive and tortured for five years and ran against Barack Obama in the 2008 presidential race.
Sen. John McCain's wife is thanking people across the globe for their expressions of "love and support" in the wake of the McCain family's announcement that the Arizona Republican had discontinued medical treatment for an aggressive form of brain cancer.
Cindy McCain says in a tweet that the family "is overwhelmed by the outpouring of love and support from around the world."
President Trump did not want to comment on McCain before he died, White House officials said.
U.S. Senator Ben Sasse issued the following statement regarding the death of U.S. Senator John McCain: Our nation aches for truth-tellers. This man will be greatly missed."
U.S. Senator Deb Fischer also released a statement saying: "With a heavy heart we mourn the loss of a national treasure, Senator John McCain. From his days as a war hero, to his leadership on the Senate Armed Services Committee, and his years of dedicated service to the people of Arizona, Senator McCain's indomitable spirit and love for country had no match. My deepest sympathies go out to Cindy and the entire McCain family. "