NEW DETAILS: Over 40 residents displaced after apartment fire
This is the 3rd fire to happen overnight in Lincoln, and as you can see from the video, it isn't a small one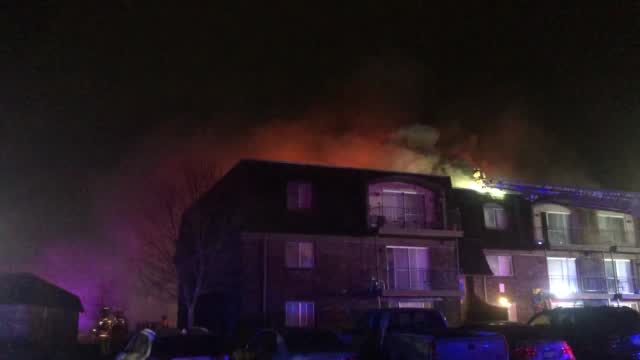 LINCOLN, Neb. (KLKN)- A fire broke out at Southwood Village Apartments near 27th and Highway 2 around 5 a.m. morning.
You can see the flames bursting from the windows in the video above.
Due to the size of the structure, LFR declared the blaze a "three-alarm" fire, meaning more fighters were sent to help.
LFR says there was damage to the roof with interior smoke damage throughout the entire third floor of the structure, as well as to the interior of the structure due to the ceiling being pulled to search for fire in hidden space between ceilings and roof.
Around 40-50 people were displaced by the fire, but all were safely evacuated despite fire detectors not sounding due to the fire's location between the attic and the roof, LFR said.
The cause of the fire was deemed to be electrical.
Officials estimate the damage at $100,000.
This was the third fire to happen overnight in Lincoln.
SEE ALSO: BREAKING: Fire at Earl May Garden Center