Bryan Health Trauma Champions 2019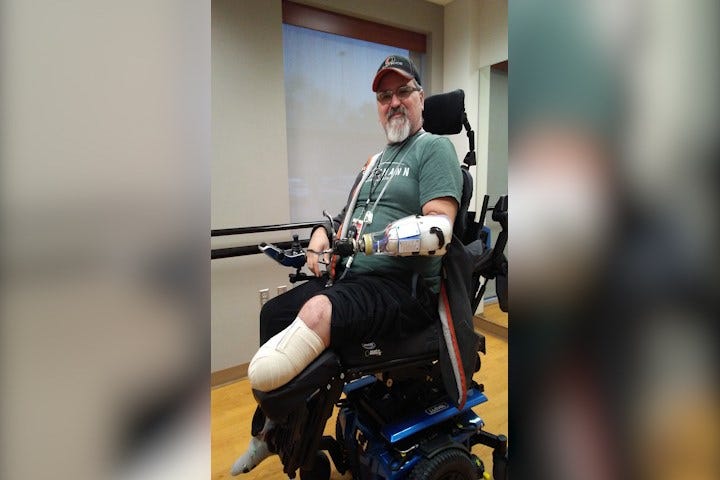 Bryan Health Trauma Champions jumped into action after a situation turned deadly.
About a year ago on August 13th, Jim Earnhart and his crew were positioning a grain handling tube into a grain tower when the worst happened.
"When I stepped in to position the tube into its final resting place, the clamp let loose that was holding the pipe to the crane and it dropped it down on top of me," 2019 Bryan Health Trauma Champions patient, Jim Earnhart said.
The 24 foot long, 11 hundred pound pipe pinned him against the tower and ultimately crushed his left leg and arm.
"I'm scared, I'm kind of lost. I don't know anybody that has gone through this," Wife of recovery patient, Amy Earnhart said.
"Time was of essence, he was going into shock, and what that means, he had lost blood and was getting little to no blood flow to his brain," Bryan Health doctor who performed of Jim Earnhart, Stanley Okosun M.D. said.
"…And that's when things got kind of real, when he started saying that we don't know the extent of all the injuries and he's in a ct scan now, but i may need your permission to amputate," Amy said.
Luckily, the pipe missed Jim's internal organs and head.
Earnhart was kept in a medically induced coma for an entire week.
"So my initial wake up was a little bit of a confusion," Jim said.
"…and well hi…waving (motion) and he's…(looks at arm)…panic…he can't talk, doesn't know why, 'why is my hand missing?…,'" Amy said.
"Trying to sign language to my wife, I knew this, but what else (points to arm)…trying to figure out about what all happened to me," Jim said.
The recovery over the last year has been tough, but it's what has gotten him through the nightmare.
"Working now, getting used to the arm amp prosthetic, that's a lot longer struggle than the leg. I can slice tomatoes and onions and stuff like that, i just learn how to balance and hold it and scare everybody else in the household," Jim said.
The Bryan Health champions made it all possible.
"When you have a really sick patient come in through your door and you have this kind of result, it tells you what you have in place is one of the best around," Okosun M.D. said.
From now, the road to recovery is a smooth one ahead.
"Right now, my biggest focus is just spending some time with my family," Jim said.
The tribute to the trauma champions event is this Thursday night. Channel 8 is proud to be a sponsor.