COVID-19 risk dial inches closer to 'severe' level
Lancaster County Health Officials say the COVID-19 risk dial is closer to a severe threat as cases continue to rise in the Capital city.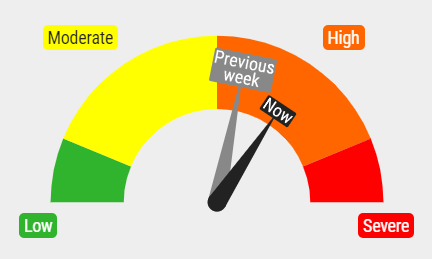 Lincoln Mayor Gaylor Baird and city and county health officials announced today that the growing number of cases in Lincoln has moved the COVID-19 risk dial closer to the 'severe' level. From Sunday, July 19, through Friday, July 24, 300 new cases have been reported.
Officials say there are 15 COVID-19 patients in our local hospitals, but they expect to see an increase in the coming weeks.
Last week, the COVID-19 risk dial was in the low-orange range, and this week it is in the mid-orange range.
County Health Director Pat Lopez said the increase in cases among younger adults continues. Since the beginning of July, 77 percent of new cases have been under age 40. While individuals age 20 to 29 make up only about 18.5% of our population, 53% of these new cases reported since July have been in that age group. She said several downtown bars continue to be identified as possible places of exposure.
"I urge young adults to consider the risks before you go out. If you do go out, wear face coverings," Lopez said. "The behavior of some young people continues to be part of the problem in moving us the wrong direction, and we need them to be part of the solution instead."
Mayor Gaylor Baird said the public reaction to the mask mandate that went into effect Monday has been predominantly positive. LLCHD has received about 40 calls per day from businesses asking about the mask measure. The department has received about 35 complaints, and the Mayor said the city is focusing on education and support as the primary means of enforcement.
The city advises those who observe someone not wearing a mask in public to stay six feet away from the individual and not to call law enforcement emergency or non-emergency numbers. The public can make complaints regarding compliance through the UPLNK phone app or the city website, UPLNK.lincoln.ne.gov. B
"We wish to remind everyone that the choices we make today, this weekend and next week are what will make a difference in preventing exposures and potential new cases in the coming weeks," Mayor Gaylor Baird said. "Please do your part and take action to prevent future exposures. The actions we ask you to take are common sense precautions – small steps that make a big difference. They are simply the three W's – wear a mask, wash your hands, and watch your distance – staying at least six feet from others."
For more information, visit COVID19.lincoln.ne.gov or call the Health Department hotline at 402-441-8006.