COVID-19 risk dial moves to red – here's what that means
The COVID-19 risk dial for Lincoln and Lancaster County has moved to the red phase.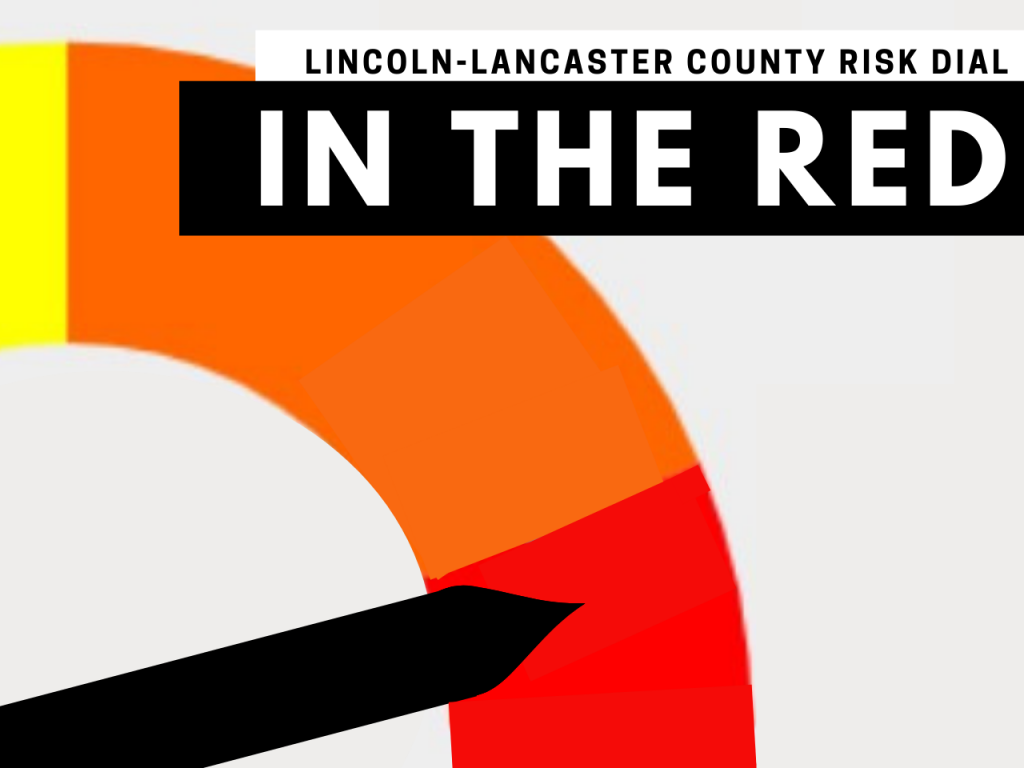 LINCOLN, Neb. (KLKN) – The COVID-19 risk dial for Lincoln and Lancaster County has moved to the red phase.
According to health officials, red signifies a "severe and uncontrolled level of COVID-19 in Lincoln and Lancaster County, meaning multiple outbreaks are present and broad community spread exists."
While the red risk dial does provide guidance, it doesn't implement new restrictions or rules. It doesn't mean anything is shutting down at this time. With the rising cases and hospitalizations, health officials announced an update to our DHM.
"Youth sports must limit spectators to no more than 25 percent capacity," health director Pat Lopez said. "Indoor venues must limit spectators to no more than two per athlete. The mask mandate also applies to all indoor buildings except residences."
Lincoln is averaging 150 new COVID-19 cases each day. The latest positivity rate is now at 20.5 percent. As for hospitalizations, 118 positive patients are in Lincoln hospitals. That is a record high.
"Ventilators right now are not our issue," Chi Health's Derek Vance said. "Personal protective equipment are also not our issue. We have strong supplies of both. We have opened up a COVID unit, actually two COVID units at St. Elizabeth, and have more than enough beds. Staffing those beds is our current issue."
The hospital has requested travel nurses to supplement the current staff.
When it comes to Lincoln Public Schools and the red risk dial, LPS is taking precautions. Officials say there have been no new instances of spread in schools since the ones announced last week.
"Families may choose now or anytime to move to 100 percent remote learning for their child," LPS superintendent Dr. Steve Joel said. "We ask that you please allow time, at least two school days for staff to verify the request and for teachers to get the materials your students will need."
Joel said LPS will also reinforce protocols for those in schools. The dial will not impact athletics in any major way.
While the dial is at red, residents are advised to:
Limit activities outside the home, unless for work, school, medical care or food
Wear face masks
Ensure six feet of distance from others
Avoid all gatherings with people outside your own home
Only visit businesses that follow public health guidance
Older adults, people with underlying health conditions and other at-risk groups are additionally advised to:
Stay home
Rely on help for needs outside the home like groceries and medicine
Distance from those working outside the home
Wear a face mask around other people
See chart below for additional details and guidance from health officials:
To read the full metrics used to determine the placement of the risk dial, click HERE.
NOTE: The risk dial only provides guidance, and does not replace federal, state, or local directed health measures.
Current local DHM:
As of Nov. 1, the following directed health measure is in effect that institutes the following requirements:
All people age five and older to wear a face covering when they are in an indoor space that is open to the public unless six feet of separation can be maintained
Business owners to ensure their patrons age five and older wear face coverings any time they cannot maintain six feet of separation with non-household members
Indoor gatherings will be limited 50 people or 50% of rated occupancy (not to exceed 10,000)
Outdoor gatherings will be limited to 75% of rated occupancy (not to exceed 30,000)
Gatherings include but are not limited to indoor or outdoor arenas, indoor or outdoor auctions, stadiums, tracks, fairgrounds, festivals, zoos, auditoriums, large event conference rooms, meeting halls, indoor theaters, libraries, swimming pools, or any other confined indoor or outdoor space
Operators of any state licensed company which allows the consumption of alcohol while on city streets, county roads, or state highways, including but not limited to limousines, party buses, or pedal pubs, shall limit party sizes to no more than fifty percent (50%) occupancy or eight (8) individuals, whichever is greater, excluding the operator
Groups shall be no larger than eight (8) individuals.
Any indoor or outdoor venue that holds more than 500 individuals must submit a reopening plan to the Lincoln-Lancaster County Health Department before gatherings will be permitted
Door to door sales are not allowed and no new permits will be issued for peddlers
The current DHM allows for:
Restaurants and bars can allow up to 100% occupancy but they are required to continue to space individuals, or groups of 8 or less, 6 feet apart (this may affect the ability to attain 100% occupancy)

Patrons/parties must be seated at individual tables and be a minimum of 6 feet apart and remain at their table unless placing an order, participating in billiards, video games etc., or using the restroom
Employees such as wait staff and cashiers shall wear face coverings, special requirements for disinfection must be followed

Self-service food buffets are allowed; Operators of buffets shall provide hand sanitizer for patrons to use prior to using utensils; and change utensils at least every 30 minutes
Establishments with arcade games, pool tables, etc. can allow individuals to play those games, but they are to make sure no more than 8 people are playing or congregating at one time, and the establishments are to perform cleaning and disinfection at regular intervals
Barber Shops, Cosmetology Establishments, Art Facilities, and Massage Therapists may operate but must not have more than 25 patrons in a room or space at the same time

A minimum of 6 feet shall be maintained between all workstations
Employees and patrons must wear face coverings
Aestheticians, body art establishments, barbers and, cosmetologists may remove customer face coverings to perform services on the customer's face

Dancing is permitted at private events (events with set invitee lists including but not limited to wedding receptions, dance recitals, or private dances)
Private and public educational institutions or school districts are excepted from the prohibition on gatherings during any in-person education

fifteen (15) or fewer children age 2 and under;
twenty (20) or fewer children age 3;
twenty-four (24) or fewer children between ages 4-5;
thirty (30) or fewer children ages 6 and above.

Gyms, fitness centers/clubs, health clubs, health spas, martial arts studios, and gymnastics gyms may operate gyms and fitness centers with up to 50 people or 75% of rated occupancy, whichever is greater
Businesses and organizations that provide any sports training and that sell memberships to provide such training are allowed to offer sports training as long as they follow the greater of 50 people or 75% of rated occupancy guideline
Courts of law, meetings or sessions of the Nebraska Legislature, or operations of any other political subdivision

However, all individuals shall wear face coverings of the nose and mouth while present in any areas open to the public while in the Hall of Justice unless doing so would be contrary to the individual's health because of a medical condition

Essential federal, state, county, and city operations
Election offices and polling places on an election day
Medical providers or facilities and pharmacies
Public utilities
Logistics and distribution centers
Congregate living settings, group homes, residential drug and/or mental health treatment facilities, and shelters
Public transportation and airport travel
Necessary shopping at fuel stations, grocery stores and other retailers
Dwelling units housing twenty-five or more related people
The DHM continues until November 30.
Lincoln Public Schools
If the Lincoln-Lancaster County risk status moves to Red – Severe, Lincoln Public Schools will work collaboratively with the Lincoln-Lancaster County Health Department to implement plans and protocols that address the areas of concern in the community and schools. LPS says it will follow recommendations from the health department on how schools can respond effectively and allow teaching and learning to continue while reducing the risk of COVID-19 spread.