Crosses memorializing mass shooting victims pop up at 13th and P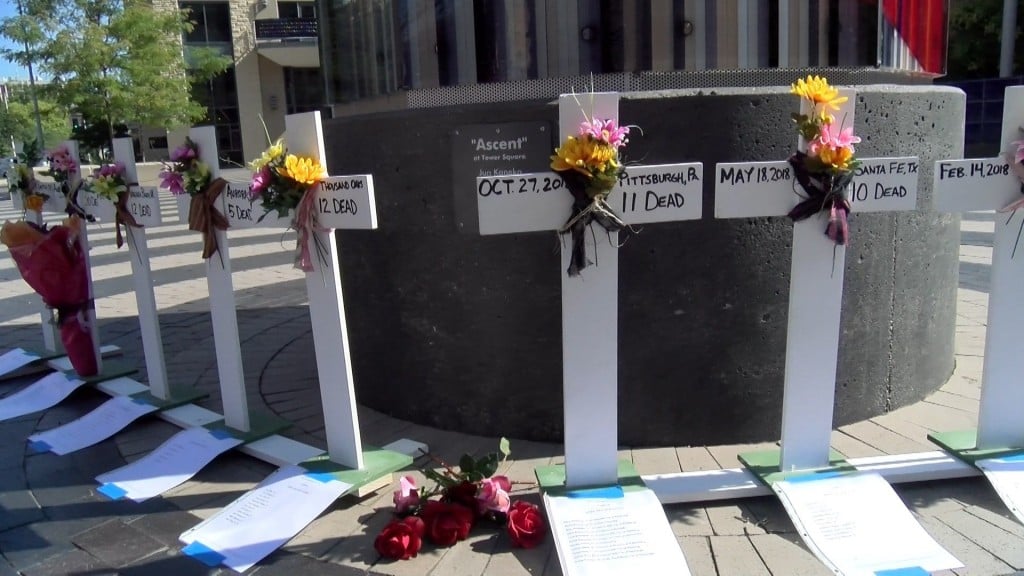 "Whoever put the time to make this, they really went all out and it shows that they really care about what is going on," Lincoln resident, Daniel Rojes said.
A makeshift memorial of crosses memorializing the victims of mass shooting victims in the United States has popped up in downtown Lincoln.
Ten crosses – each bearing the city and date of ten recent mass shootings – are arranged in a row at Tower Square.
"Another mass shooting happens and then another mass shooting happens and then it just repeats itself," Lincoln resident, Aurora Rojes said. "You can only be sad for so long and then it happens again and it's like how long can that sadness really last when it is becoming such a norm to everybody."
Flowers adorn each cross, and a list of victims is attached to the bottom of each.
It's unclear who put the crosses there, but they appeared sometime after the mass shootings in El Paso, TX and Dayton, OH, that occurred over the weekend.
The crosses are on city property. Mayor Gaylor Baird responded to the display saying, "Lincoln is a compassionate city. We share in the grief of others across the country, and we plan to leave this memorial up until the flags are raised from half-staff again on August 8."
Aurora says although she understands that the crosses will be removed, she was happy someone decided to remind everyone of these 10 tragedies.
"I do think it's something that should stay up to make people self aware that these things that are happening and it's becoming so normal to us now and it should be displayed more and talked about more," Aurora said. "More people need to make the change to figure out what we need to do to prevent this from happening in the future."
The crosses list the following cities and death tolls:
Pittsburgh, PA – 11
Santa Fe, NM – 10
Parkland, FL – 17
Sutherland Springs, TX – 26
Aurora, IL – 5
Thousands Oaks, CA – 12
Dayton, OH – 9
El Paso, TX – 20
Virginia Beach, VA – 12
Las Vegas, NV – 58