Dense Fog Advisory issued for the area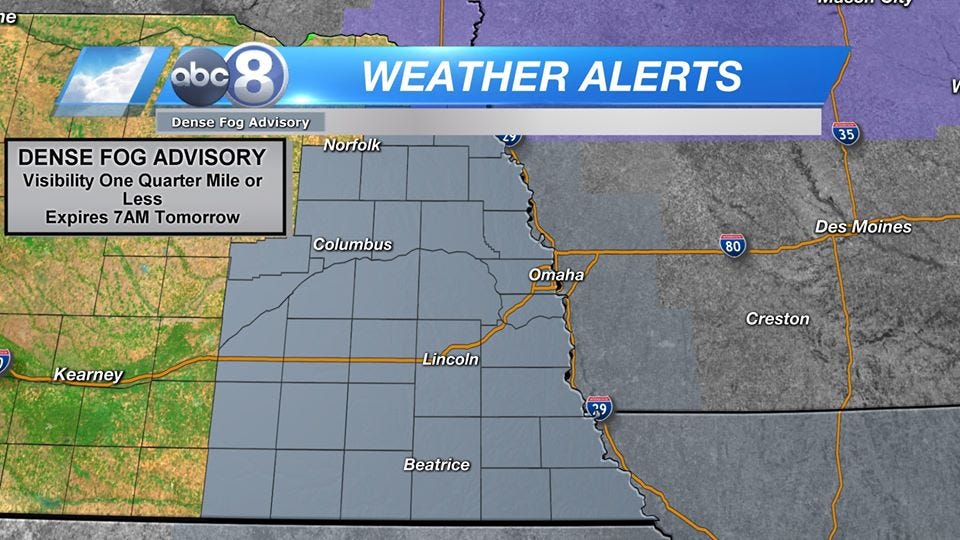 The National Weather Service has issued a Dense Fog Advisory until 7 a.m. tomorrow for the eastern portion of Nebraska, including Lincoln.
Visibility of one quarter mile or less is possible.
Drivers are advised to slow down, leave plenty of distance between vehicles and use low beam headlights.
Counties included in this advisory are:
Burt, Butler, Cass, Clay, Colfax, Cuming, Dodge, Douglas, Fillmore, Gage, Hamilton, Jefferson, Johnson, Lancaster, Madison, Merrick, Nance, Nemaha, Nuckolls, Otoe, Pawnee, Platte, Polk, Richardson, Saline, Sarpy, Saunders, Seward, Stanton, Thayer, Thurston, Washington, Wayne and York.
Please click here https://www.klkntv.com/ for more information by county.