Douglas County announces mask mandate for Omaha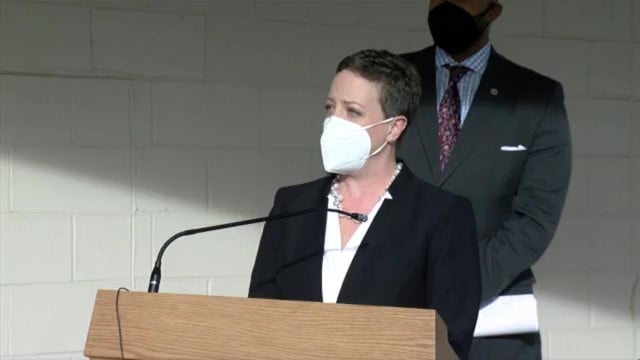 OMAHA, Neb. (KLKN) – Douglas County Health Department has implemented a mask mandate due to the recent surge in COVID-19 cases, the mandate will be reviewed at a minimum of every 4 weeks.
On Tuesday morning, Douglas County Health Director Dr. Lindsay Huse spoke to the Douglas County Board of Commissioners on the rising COVID-19 surge in Douglas County.  At the meeting, Dr. Huse expressed her intentions to implement a mask mandate for the city of Omaha beginning at 12:01 am on Wednesday.
In the meeting, Dr. Huse stated, "Later today I plan to use my authority under city code chapter 12 sections 1, 21, 23 and 24, to order a mask mandate for the City of Omaha, that would be effective as of midnight tonight. This is not a decision that I made lightly. This was not an easy decision at all, and I know it's going to create some waves."
In Douglas County, nearly 400 individuals are currently hospitalized for COVID-19 with more than 50 patients on ventilators.  Hospitals are currently operating at over a 93 percent capacity.  According to Dr. Huse, a conservative estimation of hospital demand appears to rise 40 percent in the coming weeks.
In a press conference at 3:00 pm Tuesday afternoon, Douglas County Health Department officially announced the implementation of the mask mandate stating it would last until specific benchmarks improve for the city of Omaha.  The mandate will be reviewed at a minimum of every four weeks.
Benchmarks for ending the mandate include:
Case counts drop below 200 per 100,000 for a 7-day total.
Hospital capacity in the metro sustains at 85% or less for at least a week.
Those who refuse to follow the new mask mandate will face fines and potential jail time as municipal code and local courts see fit.
Many government officials oppose the mask mandate, including Omaha Mayor Jean Stothert, and Attorney General Doug Peterson.
Nebraska Attorney General Doug Peterson sent a letter to the Douglas County health director announcing his attention to "file a lawsuit seeking to have the DHM declared invalid" and prevent the mandate from being enforced.
https://ago.nebraska.gov/sites/ago.nebraska.gov/files/doc/2022.01.11%20Letter%20to%20Dr.%20Huse%20re%20Omaha%20Mask%20Mandate%20DHM.pdf