Eagle Raceway holds fundraiser for Tim Kozak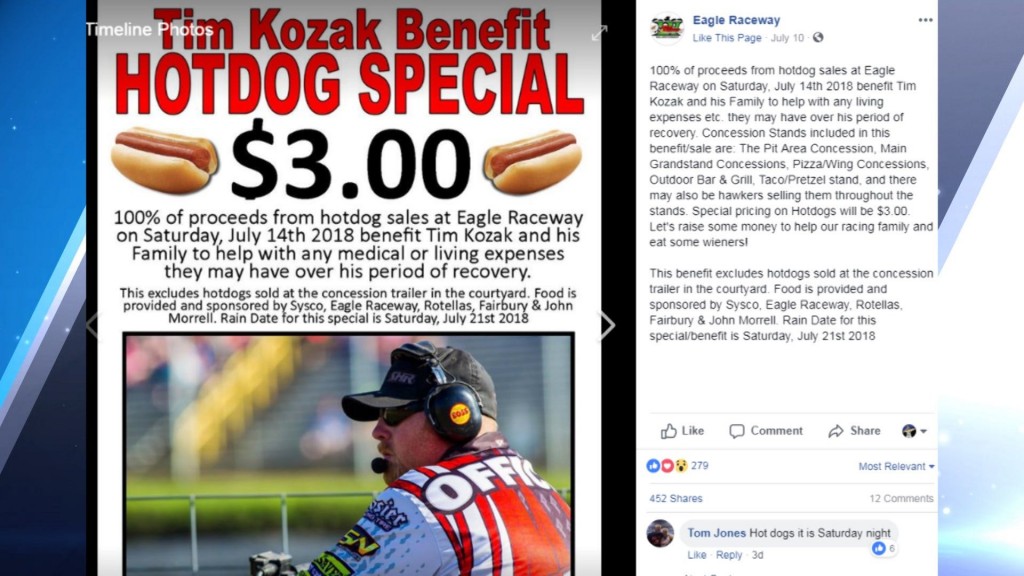 Eagle Raceway is holding a fundraiser for Tim Kozak tonight.
It's been a full week since a medical helicopter was needed to life flight Kozak to a nearby hospital.
Tonight, 100% of the proceeds made from hot dog sales will go to the Kozak family in the aftermath of last weeks accident.

It's been a whirlwind week. It was a week ago today that Tim got hit. It could have been so much worse than it was. We are so thankful for the eagle rescue crew. All of their staff," said Tim's mother, Ann Moss.
Kozak had to be transported to Bryan's West Campus by helicopter.
He suffered fractured vertebrae in his neck and back and faces a long road to recovery.
"Tim is doing pretty good. He's busted up, has got some broken bones. It's going to be a long recovery. But we've appreciated everything they've done for him. And like tonight the hot dog benefit at the track. Yeah they are all just a big racing family," said Moss.
Tim has been a part of the eagle racing community for many years.
He started out as a driver, now a race track official.
He's passed his love of driving to his son brayden, who drives a cage car every Friday night.

"My dad has been good and he never cried, he's pretty tough when he got hit by that car," said Brayden Kozak, Tim's son.
Ann says Tim had his stitches removed and he is resting at home for now.
He needs time to heal. She says he is in good spirits and is absolutely overwhelmed by the amount of support he has received.
Now, a week later, the family is back out on the track to watch again.
"It's kind of hard to be here, but i feel like we need to get back to it. Because Tim will be getting back to it and we just need to carry on for his kids and for him," said Moss.

In five short days Tim's go fund me page has already surpassed $5,000 dollars.