Family holds rally for Lincoln man critically injured after crash in south Lincoln
For the last 14 days, Nick Jarecke has been fighting for his life in the ICU.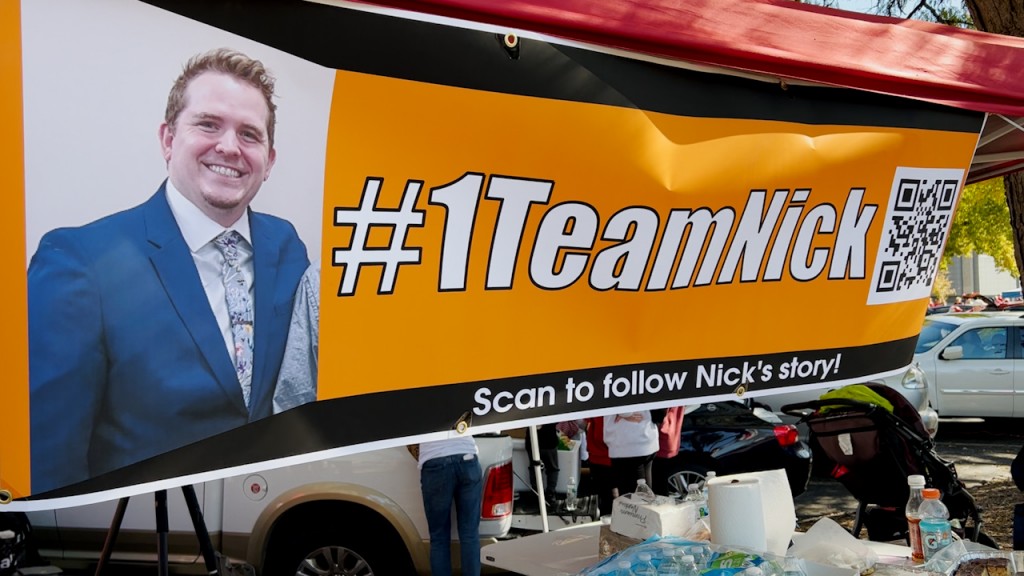 LINCOLN, Neb. (KLKN) – On game day – A family, who gathered at the corner of T Street and Stadium Drive, was not just there to support the Huskers. But instead, shed some light on their family member, 33-year-old Nick Jarecke.
"There is a picture we chose to put on this poster, and we couldn't find a picture where Nick wasn't smiling just like that. That is Nick," Rick Jarecke, Nick's uncle said.
Nick and his fiance, Natasha, were heading home from a Halloween party a few weeks ago, when little did they know, their lives would change forever.
As they were stopped at the 27th and Old Cheney intersection, just blocks from home, a car smashed into them from behind.
Nick was extracted from their vehicle with the jaws of life. Natasha, while battered and bruised, was treated at the hospital and released.
Lincoln Police believe the driver who hit them, had been drinking.
For the last 14 days, Nick has been fighting for his life in the ICU.
As of Saturday, he's still critical and unable to breathe on his own.
But the family is staying hopeful and optimistic.
"It's been up and down, thankfully in the last few days, it's mostly up," Rick said. "There have been very small steps, small signs of encouragement."
40 of Nick's family members from across the state and country gathered in Husker red to pass out stickers on Saturday with a QR code sharing Nick's story.
The code takes you to a GoFundMe page started for Nick's medical expenses but the family says this is so much more than just financial help. They say having people follow the story and gain support for Nick is what's truly part of the recovery.
"As we leave here today, I hope that I see a lot more of these stickers around town," Rick said. "We would like it so when Nick comes out of this thing, months down the road, years down the road, that maybe there's still a sticker up somewhere and Nick says 'hey, that's my sticker.'"