Farmers assess hail damage near Grand Island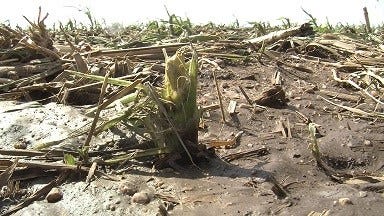 Courtesy of NTV News:
By Steve White
TRUMBULL, NEB. — Millions and millions of acres of farm land went unplanted this year. So some Adams County farmers thought they had some of the best crops in all the nation, until the storm hit.
"As soon as I heard the hail hitting the window with the wind, I knew what it was going to look like in the morning," Andy Smidt said, of the August 7 storm.
Opening up an ear of corn, Smidt sees clear signs of hail damage.
"See the bruising," he said, showing where hail stones damaged the ear.
Field after field took a beating.
"Every single one we farm had damage on it," he said.
This area had seen timely rains, and was spared the worst in the March flooding, and may have had some of the best crops in the nation.
Smidt said, "I would call this the garden spot, up until a week ago. Stuff was really, really… two weeks ago the beans evened out and stuff just looked real good."
Just like the homes that saw trees uprooted, his place saw damage too.
Extension Educator Jenny Rees says farms in Adams, Clay, and Nuckolls counties were hit.
"The good news is we didn't see anything that looked like it would be totaled, so that's good," she said.
Farmers may be able to take some crops to harvest.
Rees said, "There's not a lot farmers can do at this point. The biggest thing is assessing damage and looking at the potential for how that crop could potentially finish out this season."
But it's not just this season affected; Adams County is a hotbed of seed corn production.
"This affects us right now but what does it do to production chain next year for commercial corn. We start getting some mold and sprout going on, that's not a good thing in an ear of seed corn," Smidt said.
We last visited Smidt in December, when high winds caused power lines to gallop, leaving him in the cold.
"Last 12 months has been challenging, tough with a lot of things," he said.
The weather station on his farm measured the recent wind storm at 115 miles an hour. Now he waits to see how his crops will respond.
"Sure you have to take the good with the bad, we insure for it, all you can do," he said. "I'm ready for 2020, I'll tell you that."
Jenny Rees talked with farmers in Clay County who also had hail in 2013. She said this wasn't near as bad, and said farmers are encouraged to know it has been worse.
She encourages farmers to talk about their struggles, as tough as this year has been.