Former inmate arrested for four Omaha shooting deaths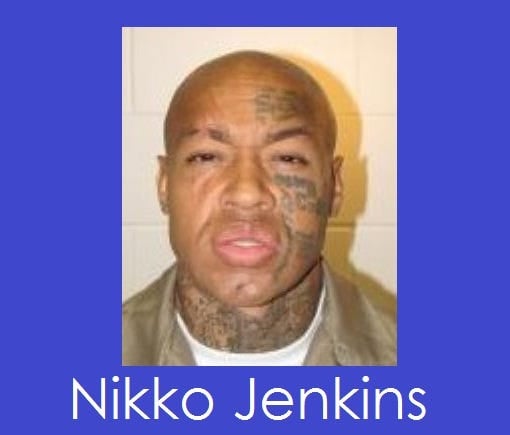 By: Lauren Fabrizi
lfabrizi@klkntv.com
Omaha police have teamed up with the Douglas County Sheriff's Office, the FBI and the U.S. Marshall's Office to arrest an Omaha man in connection with four shooting deaths.
26–year–old Nikko Jenkins has been charged with four counts of first-degree murder, which he's accused of committing just weeks after his release from prison.
On Aug. 11, Jorge Ruiz and Juan Pena were found dead in a Ford pickup in a south Omaha park.
Eight days later, on the Aug. 19th, Curtis Bradford was found shot in the head, just north of downtown Omaha.
The fourth victim, Andrea Kruger, a wife and mother of three, was shot and killed on Aug 21. Her body was dumped in a northwest Omaha intersection.
"We're going to see her one more time, hold her, touch her." Michael-Ryan Kruger, Andrea's husband said. "It's going to be special, but it's going to be tough."
These four fatal shootings left the Omaha community on edge, and law enforcement searching for answers.
"Shortly after the Andrea Kruger homicide, we started receiving some crimestoppers tips," Chief Todd Schmaderer of the Omaha Police Dept. said.
Those tips lead the OPD, the Douglas County Sheriff's Office and the FBI to Nikko Jenkins, a violent felon who was released early from prison on July 30 after serving about 10 years.
Chief Schmaderer said ballistics evidence ties Jenkins to all four killings.
"Nikko Jenkins maneuvered through his freedom by using fear, intimidation and violence to get what he wanted," Schmaderer said.
Jenkins' motive has not been released. Investigators said although Jenkins knew Bradford from prison, his other targets were random.
"He crossed racial, gender and city boundaries to commit his murders," Schamderer said.
With the help of a U.S. Marshall, Jenkins was tracked down and arrested last week on a warrant for terroristic threats. Schmaderer said it was a move to buy time to gather evidence so these murder charges could be filed.
"He would have continued his spree had law enforcement not put an end to it," Schmaderer said.
Schamderer said more arrests could be made in this case. Investigators are looking for accessories.
Jenkins will be arraigned on first-degree murder charges Thursday afternoon.