Governor Ricketts visits Beatrice to promote manufacturing jobs in Nebraska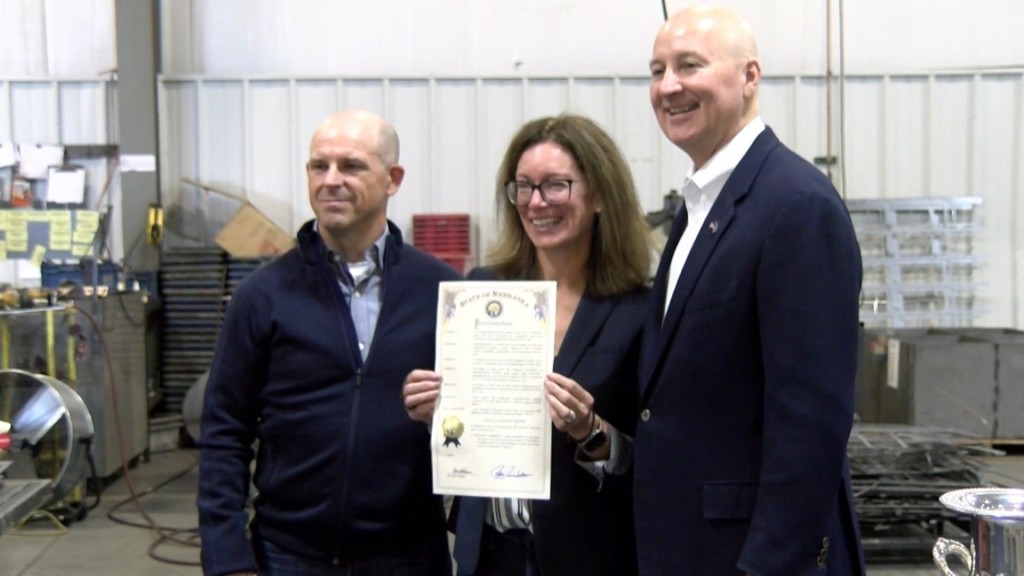 October is manufacturing month in Nebraska!
Governor Ricketts was in Beatrice on Thursday, speaking to a group of high school students about job opportunities.
Many people don't realize this, but manufacturing is the second most important industry in Nebraska, behind agriculture.
It employs more than 100,000 people, which is about 1 in 10 jobs in the state.
"It's about creating opportunities for you all when you graduate, and for Nebraska families all across the state," said Ricketts.
Ricketts and the students from Southern high school traveled to Precise Fabrication, a manufacturing factory in Beatrice.
The governor says it's a growing industry too.
According to The National Association of Manufacturers (NAM), Nebraska's manufacturing exports increased by more than 40% from 2010 to 2018, rising to a total of $6.48 billion.
According to the Bureau of Labor Statistics (BLS), Nebraska's manufacturing sector experienced more than 10 percent job growth between December 2009 and July 2019.
Randy Kinney, the owner of Precise Fabrication, says the industry isn't what it used to be.
"I think there has been a swing, maybe 20 years ago, where everyone needed to have a four year degree. There was some stigma against going to a trade school, or going to work right out of high school, and we're just trying to break all that. You can be very successful, have a great career, and work with some of the coolest equipment around, and do these things. And you can do that, typically, right out of high school," said Kinney.
Jacob Vanwinkle is a senior at Southern high school.
He says he's strongly considering getting into a trade like welding or being a lineman for a power company after he graduates.
"One of my friends last year, he just went to northeast to be a lineman, and I feel like it's really important, not a lot of people do it, but I feel like it's one of the most important jobs we have around Nebraska," said Vanwinkle.
Kinney says improvements in technology means higher paying jobs, and it may be the key to help convince people to stay in Nebraska long-term.
"We can grow manufacturing, not just in Lincoln and Omaha, you can get these great jobs in small towns in rural communities that really help contribute to our overall state," said Ricketts.
Next up on his manufacturing tour, the governor is in Omaha.
He's visiting a new addition to Omaha Westside high school's welding and engineering lab.