GRAPHIC: Animal group offering reward for information after cat was shot in the head with an arrow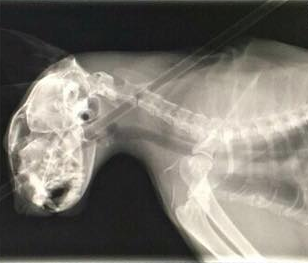 WARNING: This story contains graphic images that some people may find disturbing.
A nonprofit organization made up of cat lovers is offering a reward for information about an animal cruelty case.
The Adams County Feline Coalition told Channel 8 Eyewitness News the cat had been shot through the head with an arrow. The cat was found Sunday afternoon in Kenesaw, shortly the town's annual Wasenek Days celebration.
The cat, which is alive and being treated at a veterinary clinic, belongs to a "wonderful family who are sickened by this heinous act," the group said in a Facebook post.
The group said it filed a report with the Adams County Sheriff Office which is now investigating the incident.
An investigator told Channel 8 Eyewitness News they are in the early stages of their investigation and there are no suspects as of Monday afternoon. The investigator said evidence proving whether or not the shooting was intentional would dictate what, if any, charges are filed.
The group is offering a reward to anyone with information that will lead to the arrest of those responsible for shooting the cat, and is accepting donations to the reward fund and a fund to help with the cat's medical expenses through it's Facebook group (click here).