Heat continues with small storm chances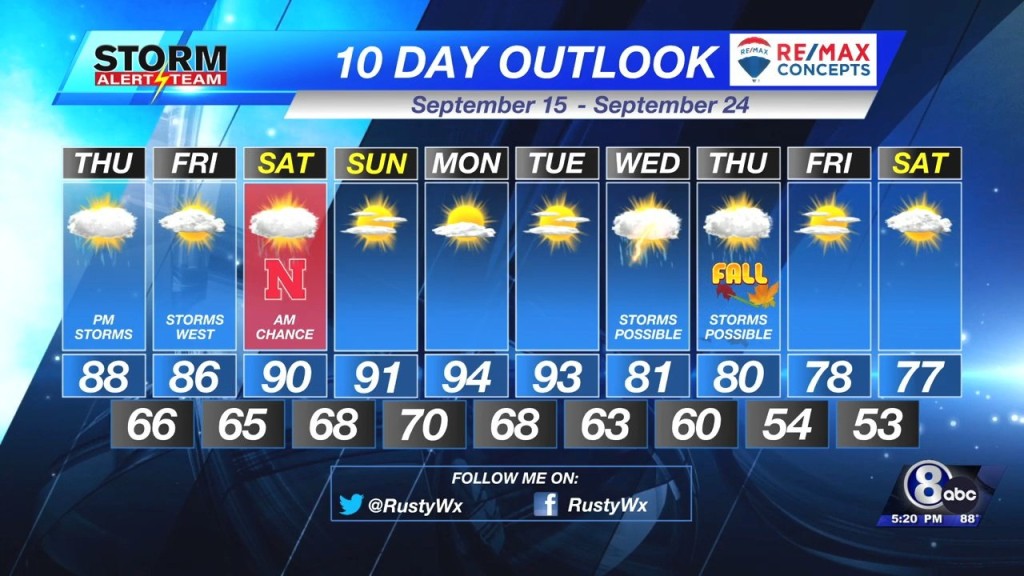 We should be in the lower 80s this time of year, but the mid-summer feel is going to continue for at least the next several days. Highs will be in the upper 80s to the middle 90s through the first half of next week. When the fall season actually begins, it'll start to feel more like fall around here!
Precipitation chances are out there, but they aren't the best of chances. Scattered showers and storms will be possible for central and western Nebraska Thursday, then those will move east Thursday evening into the overnight. We do that again Friday with storms moving into eastern Nebraska overnight into early Saturday morning. Some of that rain may linger into the beginning of the Husker game, but the chance is small.
For Thursday in the Lincoln area, we'll see mainly cloudy skies and another warm day with highs in the upper 80s and possibly the lower 90s. The wind will be gusty and out of the south at 10 to 25 mph. There is a storm chance, but the better chance for rain comes our way in the evening and overnight.
Chief Meteorologist Rusty Dawkins
Twitter: RustyWx
Facebook: RustyWx