Hundreds of 12 to 15-year-olds get vaccinated, Pat Lopez gives update on Lincoln mask mandate
On Friday, the Health Department hosted a vaccination clinic for people ages 12 to 15-years-old. Pat Lopez also made remarks on Lincoln's mask mandate.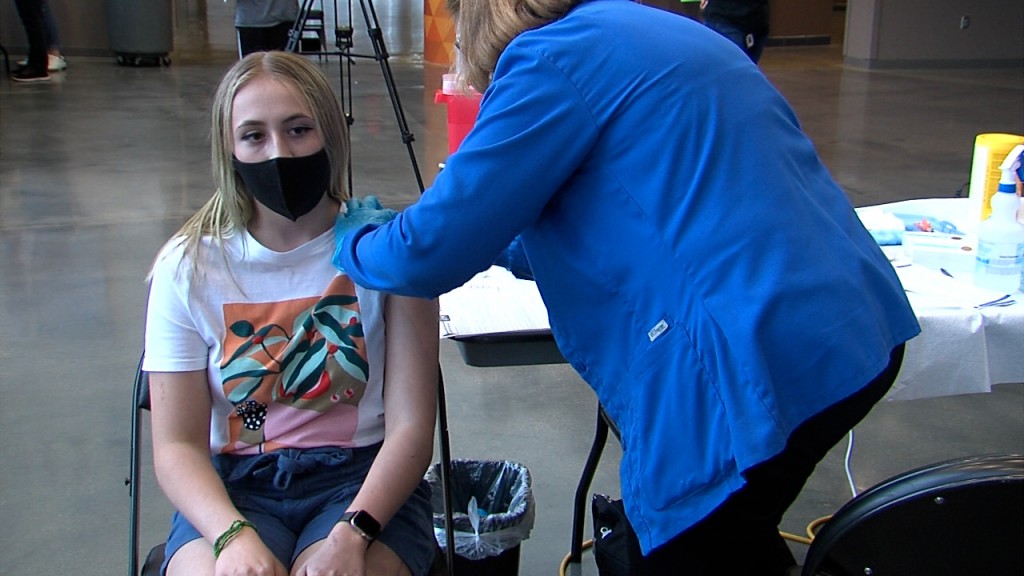 LINCOLN, Neb. (KLKN) – Hundreds of  kids made their way to Pinnacle Bank Arena on Friday, but it wasn't for a concert. They anxiously waited to get their first dose of the Pfizer shot.
This comes just days after the CDC announced it was expanding vaccine eligibility to 12 to 15 year-olds.
"I wanted to get my vaccine, because that way I can protect myself and both my friends and family," attendee Josie said.
All kids getting the vaccine had to be registered and have a parent or guardian with them.
"As a mom and as a pediatrician, it's probably one of the most exciting nights," Josie's mother Dr. Sian Jones-Jobst said.
Rev. Brandee Mimitzraiem's 12-year-old son was one of the very first to get vaccinated here in Lincoln.
"I wanted him to understand what it meant to participate in community," she said. "I needed him to understand how important it was for the whole community to be healthy."
Keep in mind, the CDC also announced that all fully vaccinated Americans are no longer required to wear a mask in most spaces.
Several members of the community are wondering when Lincoln will lift or relax its mask mandate.
"Right now we're re–evaluating," health director Pat Lopez said. "Like I mentioned last Tuesday, where we're at with our case numbers. Our week officially ends tomorrow, so we're looking at that data. "We're also looking at the information provided by CDC."
Lopez said the Health Department will provide more updated information at the Tuesday press briefing.
Until then, health officials continue to urge those eligible to get the vaccine.
Friday's clinic was special for the kids and their parents. Dr. Rachel Blake got to see two of her children get the dose.
"I have a huge amount of pride for our community, to see people that are maybe afraid or nervous about a vaccine to overcome that and come and talk to me and work through those issues," Dr. Blake said.