Huskers hang on against Purdue to pick up second win of season
Nebraska scored 14 points in the game's first five minutes and then survived a late charge by Purdue to pick up its second win of the season, 37-27, in West Lafayette on Saturday.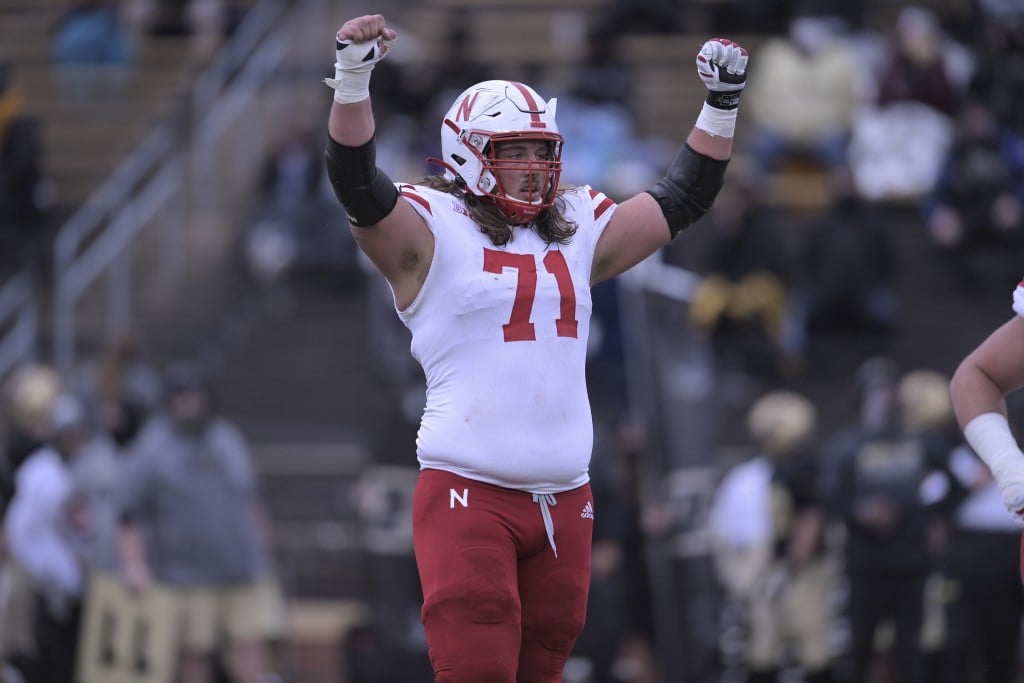 WEST LAFAYETTE, Ind. (KLKN) — Nebraska scored 14 points in the game's first five minutes and then survived a late charge by Purdue to pick up its second win of the season, 37-27, in West Lafayette on Saturday.
Levi Falck blocked a punt on the Boilermaker's opening drive, leading to a Dedrick Mills touchdown run. Mills, who saw his first action in two games, ran for 60 yards to pace the Huskers.
Then Adrian Martinez took over. The junior quarterback ran in a 13-yard touchdown on a scramble, giving the Big Red a double digit lead. Martinez finished 23-of-30 for 242 yards through the air with a touchdown pass to Wyatt Liewer along with a pair of scores on the ground.
However, the game's momentum flipped when Martinez went out with a shoulder injury midway through the 3rd quarter.
Purdue's potent passing offense then kept the Boilermakers in it. Star wide receiver David Bell had an 89-yard touchdown catch to slice the Husker lead, which had grown to 21 points in the 3rd quarter, to just 34-27 with 12:16 left in the game.
Nebraska (2-4) made it a double digit lead again on Connor Culp's third field goal of the game with just over seven minutes to play and the defense held Purdue (2-4) scoreless the rest of the way.
The Huskers host Minnesota next week to wrap up the regular season. A kickoff time has yet to be announced.
POST GAME NOTES
Nebraska improved to 5-4 all-time in the series with Purdue, including 5-3 as members of the Big Ten. The series in West Lafayette is now tied at 3-3.
Today's victory was Nebraska's first after the end of November since a win over UCLA in the 2015 Foster Farms Bowl, and Nebraska's first regular season victory in December since a win over Kansas State in the 1992 Tokyo Bowl.
Nebraska held Purdue to -2 rushing yards, the first time the Huskers have held an opponent to negative rushing yards since Michigan had -21 yards on Nov. 9, 2013. It is the sixth-fewest rushing yards Nebraska has ever allowed in a road game and marks the 22nd time Nebraska has held a team to negative rushing yards. The previous season low in rushing yards allowed was 129 vs. Iowa.
Nebraska Head Coach Scott Frost improved to 22-0 as a head coach when his teams score 35 or more points, including 8-0 at Nebraska.
Senior offensive tackle Brenden Jaimes started his 39th consecutive game today. That sets a record for the most consecutive starts by a Husker offensive lineman in school history. He broke a tie with Eric Anderson, Dave Volk and Mike Erickson who each started 38 straight games on the offensive line in their Nebraska careers.
Jaimes' 39 overall career starts are tied for the second-most by a Husker offensive lineman with Dan Vili-Waldrop. Only Jeremiah Sirles (41 starts) has made more career starts on the offensive line than Jaimes.
Senior offensive guard Matt Farniok started his 30th career game on the offensive line. He is just the 12th Husker offensive lineman to start 30 consecutive games.
Nebraska opened the game with 17 points in the first quarter. The 17-point first quarter was the most for the Huskers since also scoring 17 in the first quarter at Maryland last year (17-0). The last time Nebraska scored more than 17 points in the first quarter was a 21-14 lead over Illinois after one quarter in Lincoln in 2018.
Nebraska senior receiver Levi Falck blocked a first-quarter punt to set up Nebraska's first TD of the day. The blocked punt by Falck was Nebraska's first since the Huskers blocked two punts at Purdue last season (Eric Lee Jr., Eli Sullivan).
Falck also had a Nebraska high in receptions with five catches for 39 yards, bettering his previous high of two in two games. His previous high in yards was 22 at Iowa last week.
Quarterback Adrian Martinez rushed for 45 yards on 13 carries, including two touchdown runs. In doing so, Martinez increased his career rushing total to 1,523 and became the 8th Husker quarterback with 1,500 career rushing yards. He needs 11 rushing yards to pass Scott Frost for seventh on the NU's QB rush list.
Martinez passed for 242 yards, completing 23-of-30 passes. In today's game, Martinez moved past Dave Humm (5,035) and Joe Ganz (5,125) into fourth place on the Nebraska career passing list. Martinez now has 5,262 career passing yards.  
Martinez had a season-high 43 total offense attempts, giving him 1,031in his career. He is the fourth Husker quarterback with 1,000 career total offense attempts, joining Eric Crouch, Taylor Martinez and Tommy Armstrong Jr.
Senior place-kicker Connor Culp connected on a 49-yard field goal in the second quarter to give Nebraska a 20-3 lead. That is a career-long field goal for Culp, bettering a 47-yard field goal against Ole Miss in 2017, while Culp was at LSU. His previous long for Nebraska this season was a 39-yarder at Iowa.  Culp's 49-yard field goal is the longest by a Husker since Drew Brown made a 51-yarder against Purdue in 2016.
Culp also made a 25-yard field goal in the first quarter and a 32-yard field goal in the fourth quarter. He is now 12-of-13 on field goals this season and has made nine consecutive field goals.
Sophomore Wan'Dale Robinson caught nine passes for 114 yards, marking season highs in both catches (nine at Iowa) and receiving yards (75 at Iowa). It was Robinson's first 100-yard receiving day this season and second of his career.
Robinson totaled 119 yards from scrimmage, including 114 receiving yards and five rushing yards. It is his third straight game with more than 100 yards from scrimmage. The previous Husker to have more than 100 yards from scrimmage in three straight games was Devine Ozigbo in 2018.
Sophomore receiver Wyatt Liewer had his first career reception on a 10-yard touchdown in the second quarter to give Nebraska a 27-10 lead.
True freshman Zavier Betts caught five passes for 36 yards, setting a career high for receptions, bettering two receptions in two previous games.
As a team, Nebraska had a season-high nine tackles for loss and matched season bests in sacks with three (also at Ohio State) and pass breakups with five (also vs. Penn State).
Senior defensive end Ben Stille had five tackles, including a career-high 1.5 sacks, to surpass 100 career tackles. He now has 104 tackles in his career. Stille also now has 13.0 career sacks after he recorded his first 1.5 sacks of the season.
Sophomore linebacker Luke Reimer had five tackles, including a TFL on a 4th-and-1 stop in the first half. Reimer has had a TFL in five straight games. The last Husker to have a TFL in five straight games was Luke Gifford, who had a TFL streak of seven games spanning the 2017 and 2018 seasons. Prior to today, the last Husker to have a TFL in five consecutive conference games was Maliek Collins, who had a TFL in six straight Big Ten games during the 2014 season.
Senior safety Deontai Williams had a team-high 12 tackles in today's game, including 10 solo tackles. Williams' 12 tackles are a career high, bettering his seven tackles last week at Iowa.  Williams had eight of his tackles in the first half.
Senior Dicaprio Bootle broke up two passes in the first half of today's game. That increases his career total to 25 PBU, good for ninth on the Husker career chart.
Bootle and Cam Taylor-Britt each had two PBU's, matching the Huskers' single-game high (2 by JoJo Domann at Iowa).
Nebraska held Purdue to just 3-of-13 on third down attempts today, as Purdue had converted on 40 percent of its third-down conversions prior to today. In the last two games, NU has limited foes to 7-of-27 on third downs.
Austin Allen has at least 25 receiving yards in every game this season, with one catch for 37 yards against Purdue. The last time a Husker tight end had six consecutive games with 25 receiving yards was Kyler Reed, who had at least 25 receiving yards in six straight games during the 2010 season.  Four of Allen's 15 catches this season are for at least 25 yards.
Nebraska did not record a turnover in today's win. It was first time in 2020 that the Huskers did not commit a turnover and the first time without a turnover since Oct. 12, 2019, at Minnesota.
SOUNDBITES
SOCIAL MEDIA