Jury for Ahmaud Arbery trial found 3 men guilty of murder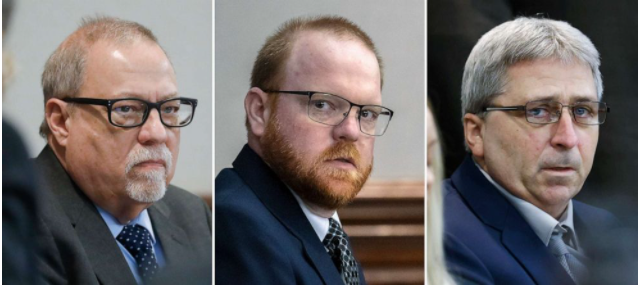 BRUNSWICK, Ga. (KLKN) – The jury reached a verdict at 1:21 pm EST in the trial of three men charged in the killing of Ahmaud Arbery, a 25-year-old black man, as he jogged last year through a Glynn County neighborhood in Georgia.
Jurors found Travis McMichael guilty of murder for chasing and fatally shooting Arbery.  McMichael now faces a maximum sentence of life in prison without the possibility of parole after being found guilty on all nine counts.
Gregory McMichael was found not guilty of Malice Murder but was found guilty on all other charges.
William "Roddie" Bryan was found guilty on 3 counts of Felony Murder, one count of Aggravated Assault, False Imprisonment, and Criminal Attempt to Commit a Felony.
All men were tried for the same nine-count state indictment:
Count 1: Malice Murder
Count 2: Felony Murder
Count 3: Felony Murder
Count 4: Felony Murder
Count 5: Felony Murder
Count 6: Aggravated Assault
Count 7: Aggravated Assault
Count 8: False Imprisonment
Count 9: Criminal Attempt to Commit a Felony