LFR to host 'Firefighter for a Day' event today
Starting at 6:30 a.m. today, LFR will be hosting a fitness challenge for high school wrestlers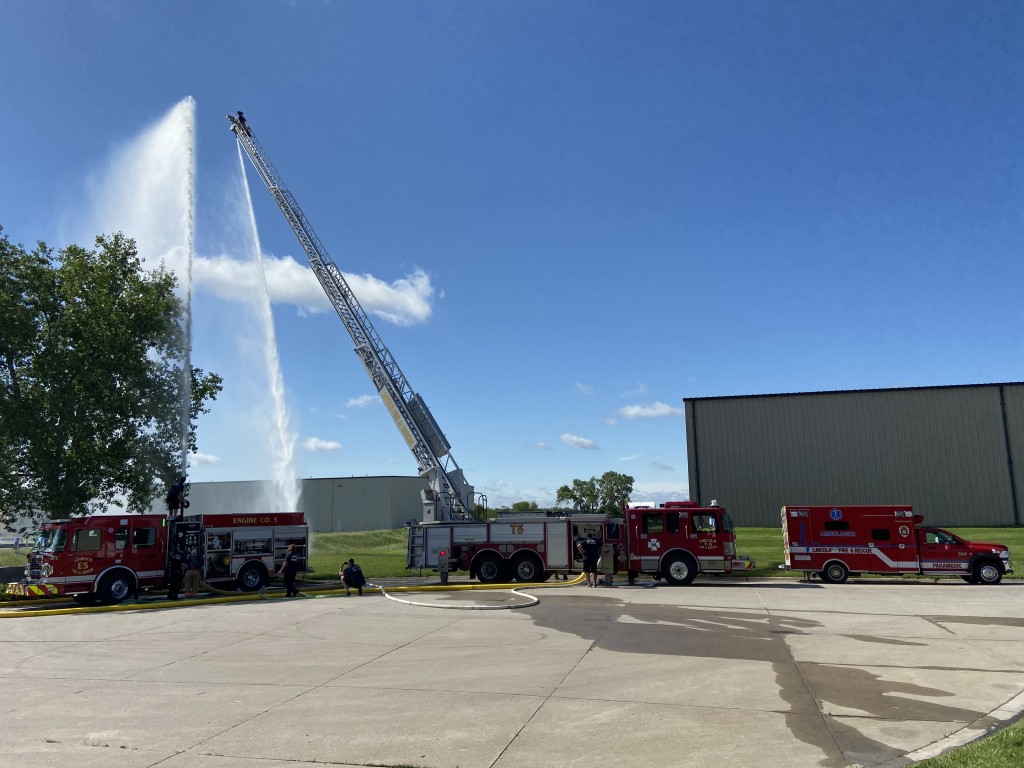 LINCOLN, Neb. (KLKN)- Wednesday morning, Lincoln Fire & Rescue will be hosting the Alliance Nebraska High School wrestling team for a fitness challenge and a "Firefighter for a Day" event.
In January, LFR was contacted by Alliance Coach Nick Myers for the opportunity.
"We have integrated the high schoolers into our academy schedule working alongside our newest recruits on skills and then job shadowing in five of our stations around town. This will give our new recruits the opportunity to teach as if doing a public education event and the team members an opportunity to learn a skill," LFR officials said.
The challenge will begin at the LFR training center at 3rd and South at 6:30 a.m.
Lincoln Fire and Rescue Recruits 21-1 and Alliance Wrestling Team Itinerary: 
June 2nd, 2021
0630: Team Workout
0730: Breakfast time and clean up.
0800: Session 1 (break at 8:50)
0900: Session 2 (break at 9:50)
1000: Session 3
1100: Lunch
1200: Dismissal to Fire Stations
MORE: Fire caused by smoking reportedly leaves $20,000 in damages
Two Teams: LFR Recruits/Instructors vs. Alliance Wrestling Team
Waterfall Style: One person starts and completes each movement before moving on to the next movement, each team member follows and can't pass the person in front of them. Once you've completed the workout you will go to the Air Bike. Here you will earn the most calories possible, rotating in any fashion with the team members that have also completed the workout.
Workout: 20 Wall Ball Shots, 20 Calorie Row, 20 Sandbag Over the Shoulder, 20 Burpees to Target and Sandbag Rope Pull….then to max effort calorie bike. Each member of each team will have to contribute a minimum of 10 calories on the bike. The workout will finish when all Alliance Wrestlers are through and the last one gets 10 calories on the bike.
Breakout sessions: After the workout, we will break the Alliance team into three groups of 6. Then each group will break out to one of the three stations, rotating every hour until 1100.
(A) Hose Deployment: LFR Instructor Papik, Recruits Vetter, Meade, and Bundy.
LFR recruits will describe the reason for using a hose, the types of deployments and demonstrate the proper way to deploy and reload a 250' pre connected hose. The Alliance Wrestlers get a chance to try.
(B) Personal Protective Clothing and Self Contain Breathing Apparatus (PPE and SCBA): LFR Instructor Henn, Recruits Sydik and Glesinger.
LFR recruits will describe the gear we wear and how we practice donning and doffing it for 1-minute drills. Then the Alliance Wrestlers will get a chance to try it on and practice 1 min drills.
(C) Ropes and Knots: LFR Instructor Endicott, Recruits Reed, Berry and Wilkins.
LFR recruits will describe the need for rope and knot skills. They will then show the Alliance Wrestlers how to tie each knot on a tool and have them practice as well.
SEE ALSO: 150 rabbits saved from barn fire