Lincoln Children's Museum expanding child care services during Husker football home games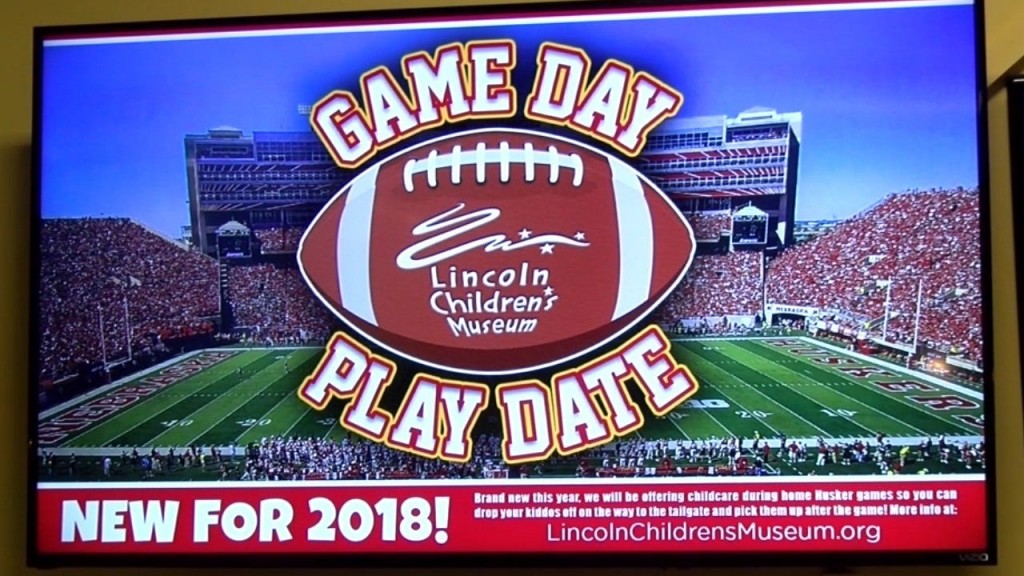 The Lincoln Children's Museum is expanding the popular 'Game Day, Play Date' program.
This is the second year the Lincoln Children's Museum has offered the service.
Due to its growing popularity, they are expanding it for each of the seven husker football home games.

"It's a great opportunity for parents to have a safe place for the kids to come, they'll be engaged in all sorts of activities that are both fun and educational," said Tara Knuth, Executive Director.
Knuth says there is a growing need for a service like this.
Families from all over the state travel to the capital city for husker football home games, and now kids ages 3 to 12 can participate in fun activities and munch on a snack during the game.
The cost for the play dates is $35 per child for members and $45 for non-members per game.
"We saw a need for a place for the kiddos to go and so parents can go and enjoy the game and have that experience, and the kids don't have to feel like they are getting left at home with the babysitter, they can have their own experience that is one of a kind," said Knuth.
Parents are able to drop off their kids up to 90 minutes before kickoff.
They can pick them up at any time during the game or up to an hour after it ends.
Last year there were 30 spots available for each home game – that number is growing.
"It sold out so quickly that we knew we were going to have to increase our availability so we're up to 40 per game that can be dropped off," said Knuth.
Some parents may be wondering, what about the home games that haven't had a kickoff time announced yet?
"All reservations are open so you can schedule for any game even though some of the game times have not been announced yet, we know we're planning on having them no matter what time the game does happen. They're filling up quickly, even for those games in November, so now is the time to get those scheduled," said Knuth.
Officials with the Lincoln Children's Museum say they're hoping to grow the program each year as long as it increases in popularity.
Museum play dates are offered for the following home games:
Aug. 31 against South Alabama
Sept. 14 against Northern Illinois
Sept. 28 against Ohio State
Oct. 5 against Northwestern
Oct. 26 against Indiana
Nov. 16 against Wisconsin
Nov. 29 against Iowa