Lincoln family donates Bluetooth speakers to Bryan Health NICU to calm, stimulate babies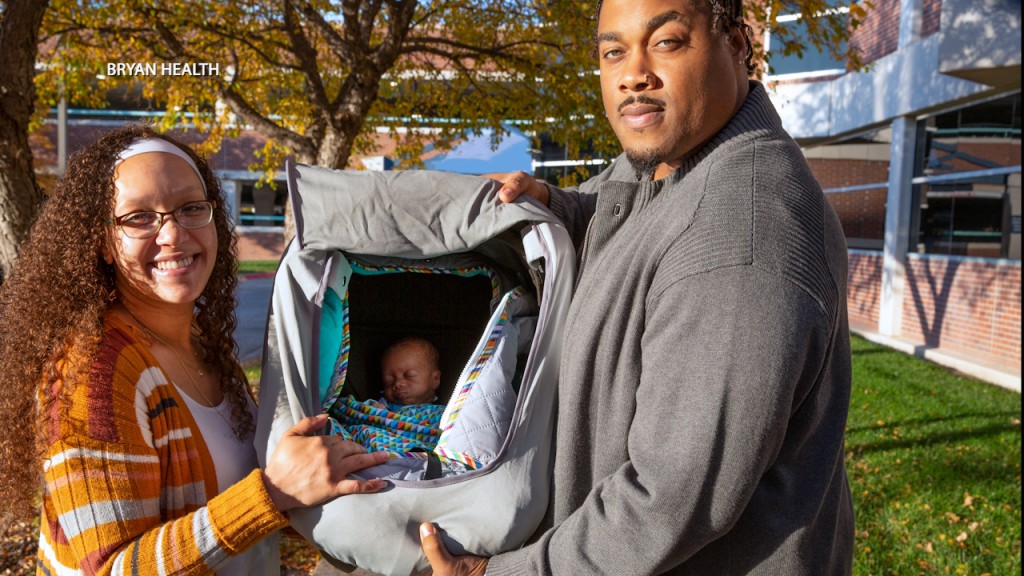 LINCOLN, Neb. (KLKN) – Meet Zeus DeLone. He came into this world just one month ago, on October 12, nearly six weeks before he was due.
"He is doing amazing. We were born at 4-pounds 12-ounces, and we're now 6-pounds .08-ounces, and we're just thriving, and just gaining as much weight as possible, " Darren & Dania DeLone said.
Dania went in for a regular check-up last month at her 34-week mark – little did she know she'd be giving birth to Zeus, her 5th child, just hours later.
"And within I'd say 7 to 10 minutes, they had already maxed out my blood pressure, called the on-call, and they said nope, go ahead and take her up to labor and delivery," Dania said. "She (the doctor) said okay, I'm sorry, but we're going to have to bring that baby home now."
Dania spent the next two weeks in the NICU at Bryan East with her husband Darren by her side.
Their four children were unable to see baby Zeus due to COVID protocols in the Neonatal wing and they both agree, that was one of the hardest challenges.
But one thing that did bring peace to the whole experience – music.
The DeLone family kept a Bluetooth speaker in their room that played calming lullabies, on repeat, to stimulate baby Zeus. It's something that has become a tradition in their household.
"Music, in general, was something we played for our second born and I played it while he was in utero most of the time, and then when he came out, it was specifically classical. With that we saw a huge improvement in his cognitive ability," Dania said.
The music carried through the hallways of the NICU last month and got a lot of attention from Bryan Health staff.
"We just kept hearing, every time someone came in, was how soothing and peaceful it was and as soon as, I don't know, maybe like the 10th person who came in, he just looked at me and was like, we need to do this for every baby," Dania said. "We need to make sure that every baby has this opportunity because what we're learning was that 50% of the babies there didn't have parents there."
The DeLone's have now donated 22 Bluetooth speakers to the NICU, one for every room.
Mirisa Hernandez, a nurse that worked closely with the family, says these speakers will be a great addition to the Neonatal Intensive Care Unit.
They will be able to record mom and dad's voice and play it for the baby to hear.
"And that's the most calming for those babies because they're missing out on that intrauterine time with mom and dad having that voice so that actually helps create and continue that bond for them," Hernandez said.
Although it wasn't easy, the DeLone's are just happy to be giving a little piece of their tradition to other little ones around town.