Zoetis to expand Lincoln facility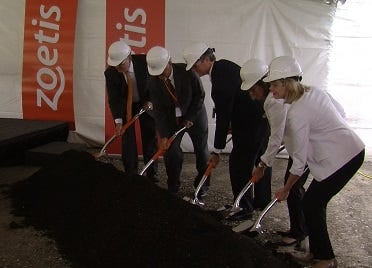 Posted By: Camila Orti
corti@klkntv.com
Zoetis announces the expansion of an important Lincoln facility.
A groundbreaking ceremony was held today to initiate the start of construction.
Zoetis is a world leader in animal health products, and one of its largest manufacturing operations is here in Lincoln off of West Cornhusker Hwy.
The expansion will add 30 new jobs to a facility that already employs more than 500 people.
"The expansion is very important for the city, for Lincoln, and the product that we're actually bringing in is an important product for our cattle sales force," Lincoln site manager Mike Morgan said.
Zoetis is a multi–billion dollar company that produces widely used medicines and vaccines for pets and livestock. It's based in Florham Park, N.J.
Construction is set to begin on a 19,000 square-foot expansion that should be finished sometime next year.
Government officials like Mayor Chris Beutler and Congressman Jeff Fortenberry attended the ceremony.
"In an agricultural state we certainly cannot underestimate the value of your organization to the future livelihood of everybody in this state," Beutler said.
Company representatives say the expansion will help the plant take over production of Synovex, a growth hormone for cattle.
"It really boils down to our people, I mean the hard work, the work ethic we have here in the Midwest has really shown through and we've delivered before and we'll deliver again," Morgan said.
The Lincoln Zoetis facility has been in business since 1961. The name was changed from Pfizer to Zoetis earlier this year.