Mother Nature got the memo: spring-like weather by Monday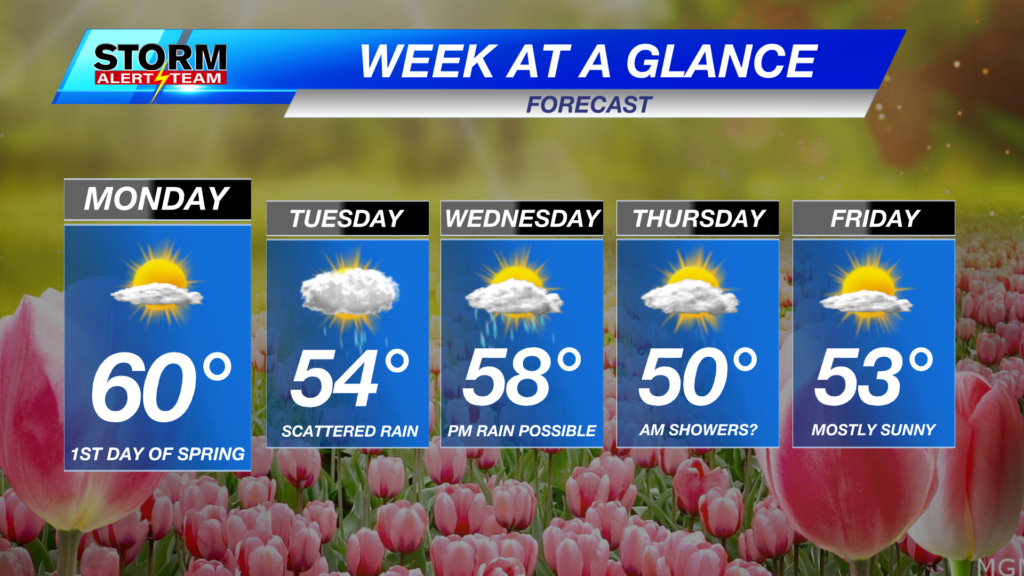 If you've seen the sky on Sunday, it's been blue and cloudless for most of the day. There isn't much moisture to work with within our atmosphere, and higher wind gusts up to 35 mph have been pushing us to an elevated fire risk. A Red Flag Warning is in effect for areas including Lancaster and Seward counties through 9 p.m. on Sunday. Be careful to not park in grassy areas, and avoid actions that could quickly spark a fire.
We'll continue to experience breezy, clear conditions overnight that will end up giving us a milder evening. Compared to the last two mornings that have had subzero wind chills, Monday morning will be better.
Temperatures will only fall to the upper 20s and lower 30s by the start of the week, giving us a head start for warming up throughout the day on Monday.
Speaking of Monday, it is the first day of spring! It's finally here! Mother Nature has caught on with a spring-like day for us: mostly sunny skies and temperatures nearing 60° by the afternoon. After Monday, scattered light rain is possible Tuesday, and rain chances continue through Thursday.
Cheers to the warmer weather staying with us this week, and hopefully the great beyond. At least through the end of March, temperatures are trending warmer.
Meteorologist Jessica Blum
Twitter: JessicaBlumWx
Facebook: JessicaBlumWx