Motorcyclist remains in critical condition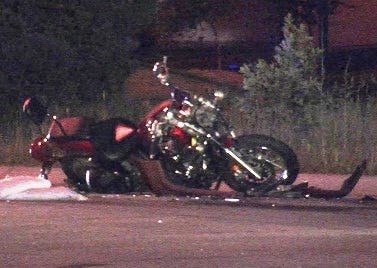 By: Ashley Harding
aharding@klkntv.com
A 27–year–old Lincoln man is fighting for his life after he lost control of his motorcycle and hit a pickup head–on.
They say he was driving westbound on Grainger Parkway just north of Yankee Hill Road when he lost control. He then side–swapped a van which sent him into the opposite lane. That's when he hit the truck head on.
It was just after midnight Friday when paramedics were called to the scene of a motorcycle accident. Police say the 27–year-old driver lost control at a slight curve near Brummond Drive A registered nurse rushed to help.
"Went running down, called 911, and discovered the man's pulse was not good, so started some chest compressions on him."
He was wearing a helmet at the time of the crash. The others drivers were not hurt.
"Anytime there's an accident with serious injuries, we'll always look at all elements of the crash to see if speed was a factor."
While we were working on this story, we soon realized there's a lot of traffic in this area. On top of that, several neighbors say many people speed. That makes them concerned for other drivers, especially motorcyclists.
Those who were on the scene this morning say they are praying he pulls through.
"Well I hope that he recovers and doesn't have any brain damage. He did have a helmet on which is a good thing."
Police have not yet released his name. He remains in critical condition.