NE Supreme Court approves alternate route for XL Pipeline plans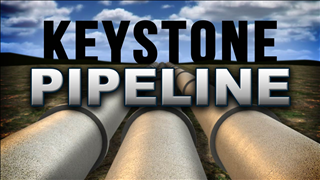 Today, the Nebraska Supreme Court announced its ruling on whether the XL Pipeline project can legally move forward.
The court's decision essentially eliminates one of the last major roadblocks facing the pipeline.
The court upheld a 2017 decision by the Nebraska Public Service Commission to let the pipeline be built in Nebraska.
It's a major victory for the pipeline's developer, Transcanada, now called TC Energy, and a major blow to landowners and environmental groups who oppose the pipeline.
"To be told now that our property rights are not sacred leaves me almost speechless. That said, I have to say that we will remain united and vigilant in our resistance," Nebraska Landowner, Jeanne Crumley said.
Opponents argued the commission's 2017 decision – which approved an alternate route from what the developer originally wanted – was illegal.
They argued the developer's application was only valid for the original route, not the new one that got approved.
The state argued the commission's decision was the right one, and now its highest court has agreed.
Third District Commissioner Tim Schram agreed in the Court's decision, "At this point, the commission's work is done, and obviously going forward, it's in the hands of the other parties at this point."
A Nebraska Supreme Court Justice Jeffrey Funke wrote in the decision: "We find there is sufficient evidence to support the PSC's determination that the (alternative route) is in the public interest."
A group of tribal officials, environmental groups, and landowners still insist otherwise, "Knowing that there are sites in this area where this pipeline will be located that haven't been studied, to give that a green light is just beyond the pail and we're very disappointed and will continue to explore our options to continue this fight," Nebraska Ponca Tribe Chairman Larry Wright Jr. said.
Those who support the project, say it will bring jobs and lower our dependency on foreign oil.
The pipe's path would go from Canada to the Gulf Coast. While this is a big step forward, opponents say they're not giving up yet, they say they plan to resist at all costs.