Nebraska farmers experience nearly $1 billion loss in revenue from trade wars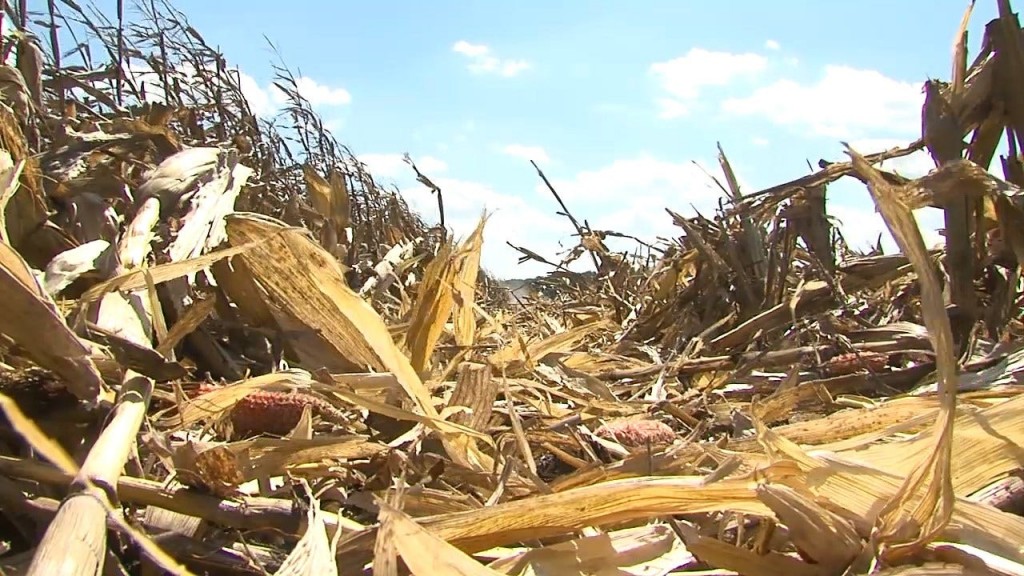 The on-going trade war between the U.S. and China has had a massive impact on farmers in the state.
A new analysis, released on Tuesday from the Nebraska Farm Bureau, estimates the total loss for farmers in the state at just under $1 billion in 2019 alone.
"The ongoing trade issues, the weather issues, the blizzards and things, the flooding that occurred this spring. It's a tough year right now for agriculture, we expect that the financial pressures on farmers and ranchers are going to continue to grow," said Economist Jay Rempe.
The analysis utilized USDA data to estimate tariff related losses on a statewide basis, as well as estimating the crops most impacted.
Soybeans and corn have been hit the hardest to date.
Those two crops account for 89 percent of the total revenue loss.
Rempe says the subsidies being paid out by the federal government isn't doing enough to help farmers in the short term.
"When we look at the numbers, the losses that farmers are experiencing are exceeding the help that we're getting from the federal government," said Rempe.
The report shows the counties most affected by the trade war are Cuming, Custer, Dawson and Lincoln county, with Platte county not far behind.
The farmers are growing increasingly frustrated by the trade wars, and financial pressure will only continue to rise.
"We appreciate the relief, but we want more trade agreements, we want expanded markets. We want to be able to sell our product overseas," said Rempe.
Rempe says, due to the financial losses, farmers are having to cut back on spending themselves.
Purchases for new farm equipment are being put on hold as families budget for the future.
No one knows when the trade war will end, but the farmers hope it's sooner rather than later.
"Whatever means it takes, Mr. President, please open these markets for us so that we can continue to sell our products," said Rempe.
Rempe says that even if the tariffs are lifted in the near future, the ramifications of it will impact the state's economy for years to come.
_______________________________________
Courtesy: Nebraska Farm Bureau
A new analysis by the Nebraska Farm Bureau estimates the ongoing retaliatory tariffs imposed by countries on U.S. agricultural exports will cost Nebraska producers $943 million in lost revenues in 2019.
The projected losses would be in addition to tariff related losses in farm level income estimated between $695 million to $1.026 billion in 2018.
The "Nebraska Farm and Ranch Losses from Retaliatory Tariffs 2019 Estimates" analysis was conducted by Nebraska Farm Bureau Senior Economist Jay Rempe as a way to provide an assessment of losses independent of the Market Facilitation Program (MFP) assistance available to farmers to offset trade associated losses.
"We appreciate the administration's ongoing support for America's farm and ranch families through MFP assistance, but this analysis shows just how critical it is that we resolve the prolonged trade conflicts that have created the tariff pressures," said Steve Nelson, Nebraska Farm Bureau president.
The new analysis utilizes United States Department of Agriculture (USDA) data to estimate tariff related losses on a statewide per-commodity basis, as well as estimate total commodity losses on a per-county basis.
"The analysis shows that Nebraska soybean and corn growers will likely see the greatest cumulative losses. Soybean producers as a group are projected to lose out on nearly $589 million from retaliatory tariffs and corn producers are estimated to lose roughly $251 million," said Jay Rempe, Nebraska Farm Bureau senior economist.
"Pork producers are projected to see $40 million in losses, while sorghum and wheat growers will collectively experience losses in the mid-$20 million range. Alfalfa growers are estimated to experience $9 million in losses, while dairy producers will likely lose out on roughly $3 million and dry bean growers collectively will lose $2 million due to retaliatory tariffs."
Export losses of beef, hides and skins, ethanol, and other byproducts of Nebraska's processing industries were not included in the analysis, but according to Rempe, losses in those areas would also impact producers bottom lines.
"Counting tariff losses for beef, ethanol, and other byproducts could easily push Nebraska farmers and ranchers' collective losses from trade tariffs over the $1 billion mark," said Rempe.
In terms of trade related losses estimated on a county-by-county basis, Cuming County is the most impacted county with estimated trade losses exceeding $48 million. Custer, Dawson, and Lincoln Counties followed with losses exceeding $32 million, while Platte County experienced losses of nearly $30 million.
"If you divide the total trade losses in Cuming County by population, we're talking a loss of $5,300 per-person. That's substantial when you think about how those monies would be spent in a local community and subsequently flow into our economy," said Rempe.
The analysis also looked at the overall impact of trade associated losses to the state's broader economy, projecting a total income loss to Nebraska's economy of $1.16 billion due to retaliatory tariffs.
"This analysis shows how important trade is for Nebraska farmers, ranchers, rural communities, and our state. It's vital we eliminate trade barriers and secure trade deals that allow farmers and ranchers to work freely to capture, develop, and grow international markets. Congressional passage of the United States-Mexico-Canada Agreement, securing a bi-lateral deal with Japan, and progress on the China front would be very good places to start," said Nelson.
The full analysis, including the county-by-county breakdown is available at www.nefb.org/images/FEDeration/PDFs/2019-NEFarmRanchLossesfromRetaliatoryTariffs.pdf.