NSEA files petition for declaratory order concerning stricter health criteria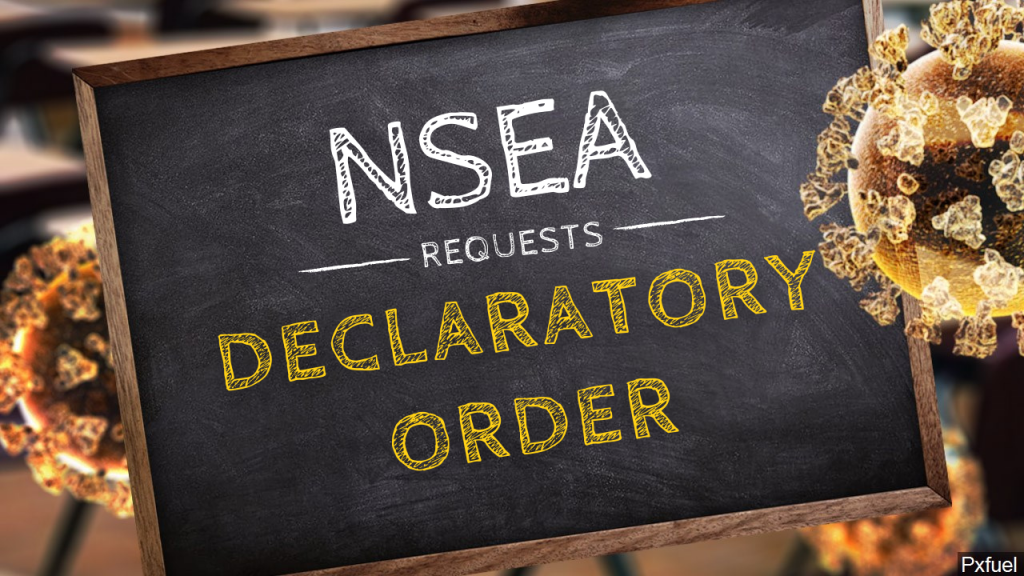 LINCOLN, Neb. (KLKN) — The Nebraska State Education Association (NSEA) submits a petition for a declaratory order from the State Board of Education on stricter health and safety criteria.
According to the U.S. Administrative Conference, a declaratory order is a legally binding decision, that does not enforce a penalty or other liability. The order's main purpose is to clarify and/or correct any uncertainties on enforcing health guidelines.
Out of the ten requests listed, the main points are as follows:
 All children in grades 3-12 must wear face coverings. All staff are will be required to mask.
Designate a staff person to be responsible for responding to COVID-19 concerns.
Develop strategies to reduce the potential for mass exposure that include:

Social distancing
Defining groups of student/staff who remain together with limited interaction with others
Reducing the maximum number of people allowed in a building

ALL sick children and adults will stay home; and, those with positive COVID-19 cases at home will quarantine.
All children and adults positive for COVID-19 will not be allowed to return to school until completing the DHM-defined period of isolation (currently 14 days).
NSEA wants to adopt the stricter health protocols outlined while schools remain open and until coronavirus cases begin to wane.
In the request, NSEA President Jenni Benson wrote "the uncontrolled transmission of the virus has put the Nebraska school system in crisis."
Benson continues to assert that recommendations from government and public health organizations, specifically concerning face masks, "continue to be largely ignored" by a number of school districts.
In addition to their duty to protect children in Nebraska schools, NSEA claims the state is struggling to keep classrooms and education programs open due to a shortage of teachers as the number of educators having to self-isolate increases.
"Unless immediate and meaningful action is taken by the State Board to identify the mitigation strategies that must be undertaken by all schools under its jurisdiction, irreparable harm will occur to our state's education system, educators, students and state as a whole," reads the NSEA's declaratory order request.
The NSEA says they want to adopt this declaratory order to keep schools open and afloat, as our school system is critical to overall child health.
Concerned for the learning and behavioral needs of Nebraska students, Benson stated, "If schools are required to close again, there will be long-term harm to children."
Read the full petition below: