Peter Terpstra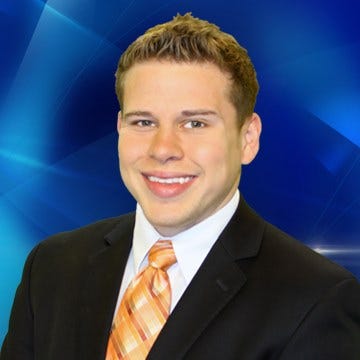 Peter grew up in Jefferson City, MO. He became interested in sports at an early age and remembers spending a good deal of his childhood and adolescence traveling the state to wrestling tournaments.
Because Peter enjoyed writing, when to the Journalism School at the University of Missouri. Peter says, "…started in newspaper, then switched when I found out broadcasters have more fun". In school, he worked as an intern at ESPN where he cut highlights for Sports Center and Baseball Tonight. He also worked for KOMU-TV in Columbia, MO during and after graduating with a Journalism Degree.
Peter is happy to be with the Channel 8 News Sports Department. "I can't think of a better place to start my broadcasting career, covering the Huskers is big time…you have to work harder to cover sports in Lincoln", says Peter.
Peter says he loves to cook. He even has a secret longing for a cooking show. Some of his signature recipes are spicy apple pork wontons, slow roasted BBQ port shoulder with pickled red onion and for Thanksgiving he prepares a whiskey/pecan glazed turkey. Peter is a dog lover and says that once you get him talking, he can stop.