Police investigating vandalism at Lincoln synagogue as hate crime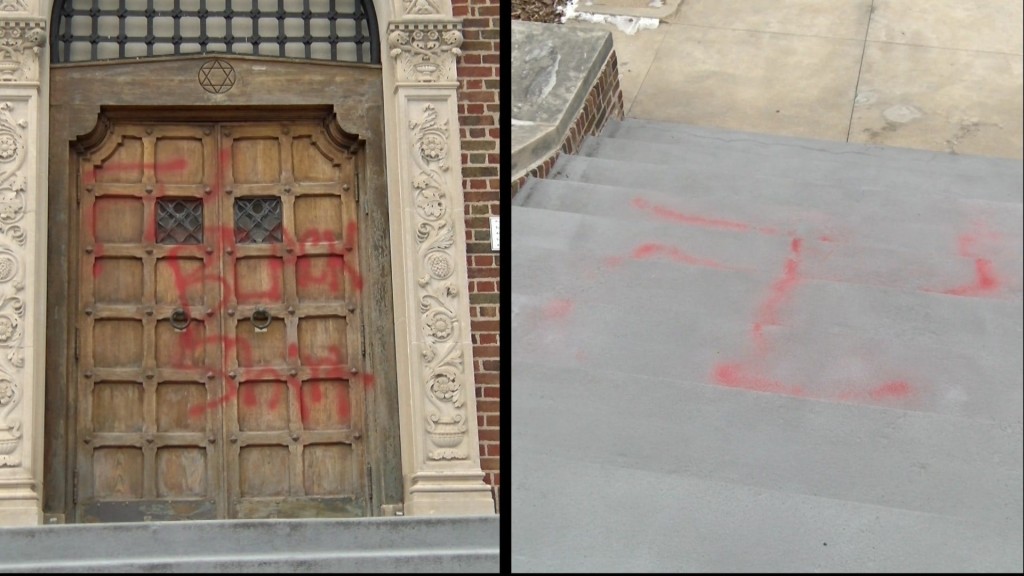 Authorities are investigating vandalism at a Lincoln synagogue as a hate crime.
A passerby called Lincoln police Wednesday morning to report racial epithets painted on the South Street Temple near 20th and South Street.
Officers discovered a swastika had been drawn in red spray paint on the front steps of the temple, and the words "Black Shirt" were spray painted on the temple doors.
"When officers arrived, they observed a swastika and anti–Semitic comments on the building. This is obviously alarming for this kind of thing to be on a synagogue and we take this very seriously and it will be investigated as a hate crime," Lincoln Police PIO, Erin Spilker said.
One of the rabbis think the word "black shirt" may have a connection to white supremacy. They believe the incident is very shocking and damaging to the Jewish and neighboring communities.
"Right now, the estimate for damage is 250 dollars, but I think that is minimal in comparison to the effect that words can have in damaging a culture and also our community," Spilker said.
Amid all of the political and cultural issues nationally, some say they are even a bit fearful of the scare this crime delivers.
"At this point, it's an isolated incident, however that wouldn't deter us to believing or think in that possibly it could turn into something more, so we want people to be on the look out, either for paint that would match the paint from this incident, and if in the neighborhood or area if they find anything like that, to call in, and obviously for places of worship to be on the look out, and just be a little more cautious and report anything if they feel is suspicious, to us," Spilker said.
Police say no other places of worship have reported similar incidents of vandalism at this time.
Investigators are requesting anyone in the area who suffered similar vandalism of red paint to contact police and make a report. Anyone with information is encouraged to call police at 402-441-6000 or Lincoln Crimestoppers at 402-475-3600.