Putin denies interference in U.S. election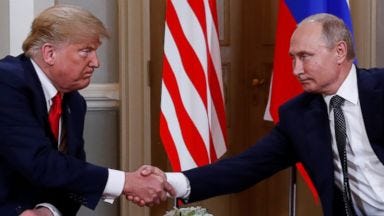 Posted by: Channel 8 Eyewitness News
8@klkntv.com
For the very latest: www.abcnews.go.com
At the conclusion of his summit meeting with Russian President Vladmir Putin, President Donald Trump said he directly asked Putin about Russia's interference in the U.S. 2016 election.
"I addressed directly with president Putin the issue of Russian interference in our elections. I felt this was a message best delivered in person. Spent a great deal of time talking about it," Trump said, standing at podium side-by-side with the Russian president during a joint press conference Putin in Helsinki, Finland.
Putin again denied Russian interference in the U.S. election, just three days after the U.S. Justice Department indicted 12 Russian government agents for hacking the Democratic Party during the 2016 election.
President Trump said that while he trusts the U.S. intelligence community, which has concluded that Russia interfered in the 2016 election, the president also said Putin's denial was "extremely strong."
"So I have great confidence in my intelligence people, but I will tell you that president Putin was extremely strong and powerful in his denial today," Trump said.
Trump said Putin made an "incredible offer" to allow US investigators work alongside Russian investigators.
"He offered to have the people working on the case come and work with their investigators with respect to the 12 people. I think that's an incredible offer," Trump said.
President Trump said that relations between the two nations were at a historic low point prior to today's meeting but argued that relations have already taken a positive turn as a result of today's diplomatic engagement.
Putin was also asked if Russia had anything on Trump or his family. Putin denied having any information that could damage the president.