RECALL ALERT: Ready-to-eat Tyson chicken recall gets bigger
Nearly 8.5 million pounds of the product are impacted.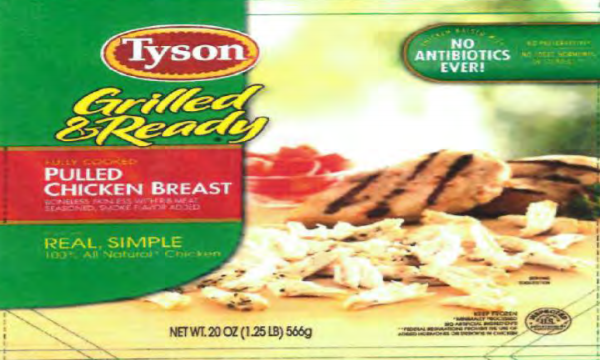 DEXTER, Mo. (KLKN) Tyson Foods is now recalling nearly 9 million pounds ready-to-eat chicken products that could be contaminated with Listeria.
The products impacted were made between December 26, 2020, and April 13, 2021. Three people have gotten sick from Listeria infections and one of them died from the illness. Government health officials are now trying to narrow down where that infection came from so they can warn consumers.
The product was sold to schools, but is not part of the National School Lunch Program, according to the USDA.
"FSIS collected two precooked chicken samples from two establishments that are closely related genetically to Listeria monocytogenes from ill people. One of the samples was collected at Tyson Foods Inc. FSIS is continuing to work with federal and state public health partners to determine if there are additional illnesses linked to these products.", a news release stated.
The recalled products have the establishment number "EST. P-7089" on the bag or inside the USDA mark of inspection. The recalled products were shipped nationwide.
The Food and Safety Inspection Service says "Consumption of food contaminated with L. monocytogenes can cause listeriosis, a serious infection that primarily affects older adults, persons with weakened immune systems, and pregnant women and their newborns. Less commonly, persons outside these risk groups are affected."
Listeriosis can cause:
Fever
Muscle aches
Headache
Stiff neck
Confusion
Loss of balance
Convulsions
Diarrhea or other gastrointestinal symptoms
The FSIS advises you to not eat the recalled product and either throw it away or return it to where you purchased it.
Questions? Call the toll-free USDA Meat and Poultry Hotline at 1-888-MPHotline (1-888-674-6854) or live chat via Ask USDA from 10 a.m. to 6 p.m. (Eastern Time) Monday through Friday.
Here are the complete lists of the recalled products.