Rutgers bullies Husker Hoops to 79-62 win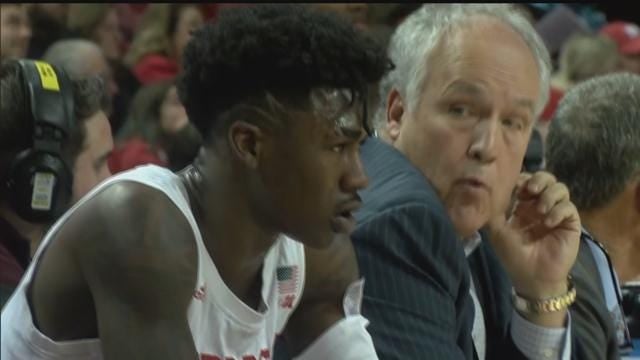 Miles Johnson scored 18 points and grabbed 14 rebounds as Rutgers (11-3, 2-1 Big Ten) dominated Nebraska (6-8, 1-2) Friday night, 79-62. It's the Scarlet Knights largest margin of victory in a conference game since joining the league.
Haanif Cheatham scored 16 points to lead the Huskers. Cam Mack finished with 11 while missing time with a head injury after colliding with a Rutgers' player in the first half.
Nebraska plays Iowa on Tuesday at 8:00 p.m. at Pinnacle Bank Arena.
POST GAME NOTES
– Haanif Cheatham finished with a team-high 16 points. It was his ninth double-digit effort in the last 10 games.
– Cam Mack finished in double-figures with 11 points, along with six assists. Mack has at least five assists in 10 games this season. With his six assists, Mack has 91 total through 14 games this season. His 6.5 average is on track to rank third in school history and would be the highest since Brian Carr in 1986.
– Dachon Burke Jr. finished with five points and five rebounds. With his five points, Burke brings his career total to 983. He needs 17 points to reach 1,000 career points.
– Thorir Thorbjarnarson set a career high with five assists. He had four against Butler in the first round of the 2018 NIT.
– Yvan Ouedraogo finished with four points and four rebounds. He is averaging 7.8 points and 8.4 rebounds over the last five games, dating back to Dec. 13.
– Nebraska had made eight three-pointers against Rutgers, bringing its season total to 117 in 14 games. The 8.36 season average is on track to rank second in school history and the highest since 2001-02.
– Rutgers picked up its first win in Lincoln. Previously, the Scarlet Knights were 0-4 against Nebraska in Lincoln.