Semi bursts into flames at truck stop near Greenwood on I-80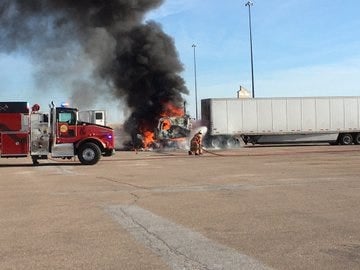 A plume of heavy, black smoke could been seen from miles away, after a semi burst into flames.
It happened at Cubby's Greenwood Travel Plaza on I-80 around 1 p.m. Thursday afternoon.
The driver of the semi tells the Nebraska State Patrol that he went inside the truck stop to take a shower, and when he came back out, his semi was in flames.
The Ashland Fire Department was called in to battle the flames. It looked like crews were able to contain the flames to the cab, leaving the trailer mostly undamaged.
At the scene, a state trooper tells Channel 8's reporter that the semi was carrying US mail. Fire crews could be seen pulling the crates of mail away from the blaze.
Thankfully, no one was injured. The cause of the fire is still under investigation.