'Slender Man' stabbing teen asks for conditional release from mental health facility
6 years later, one of the three teen girls from the Slender Man stabbings is now asking to rejoin society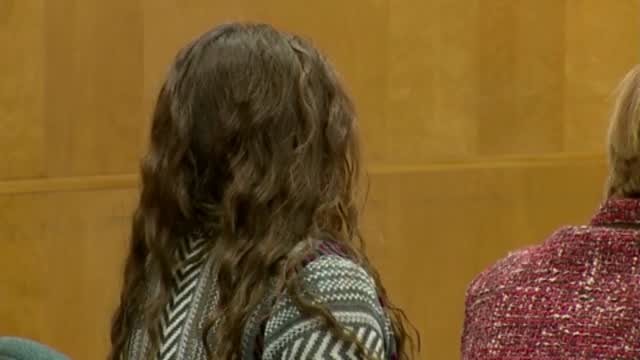 LINCOLN, Neb. (KLKN)- In 2014, three 12-year-old girls went into a forest, but only two came out. Anissa Weier and Morgan Geyser lured their friend Payton Leutner into the woods in Waukesha, Wisconsin with the intent of killing her to please the fictional character "Slender Man".
Geyser stabbed Leutner 19 times while Weier watched. Leutner was later found, rushed to the hospital, and miraculously survived.
Now, Anissa Weier is asking for conditional release from her mental health facility.
At a court hearing on Wednesday, a judge reviewed medical reports and a letter was written by Weier, now 19-years-old.
In the letter, she wrote, "I have exhausted all the resources available to me at the Winnebago Mental Health Institute. If I am to become a productive member of society, I need to be a part of society."
SEE ALSO: SHERIFF: 12-year-old arrested for alleged stabbing, believed to be premeditated
Back in 2017, Weier had been sentenced to up to 25 years in a mental institution.
According to Weier, she's taken the responsibility that comes with "living with a mental illness, by communicating with total transparency to my treatment team members, participating wholeheartedly in all aspects of my treatment, and maintaining 100% medication adherence."
"I am sorry and deeply regretful for the agony, pain, and fear I have caused," Weier wrote, adding, "I take full responsibility for my actions."
"I vowed after my crime that I would never become a weapon again, and I intend to keep that vow," she said.
Until a decision is made regarding her release, she'll return to Winnebago Mental Health Institution until her next court date, June 11.
When they were tried, Geyser and Weier were charged in adult court for first-degree attempted intentional homicide. Weier pled guilty to a lesser charge and the jury found her to be not guilty by mental disease or defect.
Geyser pled guilty to the first-degree charges. In 2018, as part of a plea agreement, she was convicted but also found not guilty by reason of mental disease or defect. She was sentenced to up to 40 years in a mental institution.
MORE: Proposed bill could ban the use of facial recognition technology in Nebraska