Strong first half not enough, Husker men's hoops drops 10th straight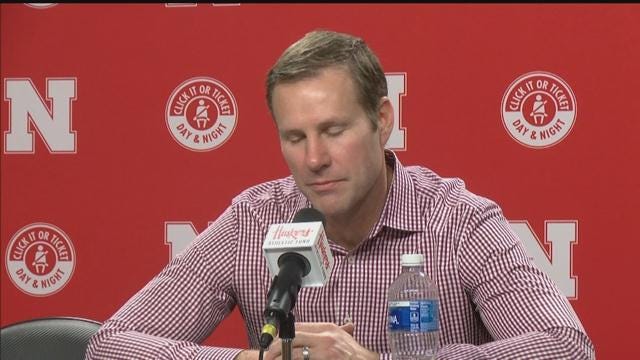 jkoller@klkntv.com
Despite a strong first half, Nebraska men's basketball lost to Wisconsin Saturday for the Big Red's 10th straight loss. WATCH:
Nebraska Post-Game Notes
The halftime score in both matchups was identical (Wisconsin 39, Nebraska 38).
Today's game featured 10 ties and 13 lead changes. The 10 ties were the most for Nebraska in a game this season, while the 13 lead changes were the second-most this season (17 lead changes against Southern on Nov. 22).
Haanif Cheatham scored 17 points against Wisconsin. He has 37 points in his past two games after going scoreless in his previous game at Iowa.
Yvan Ouedraogo narrowly missed his second career double-double, finishing with eight points and a game-high-tying 10 rebounds. His 10 rebounds tied his career high for a Big Ten Conference game and marked his fourth double-figure rebounding effort of the season.
With his 10 rebounds, he has 149 rebounds on the year and moved from ninth to fifth on Nebraska's single-season freshman rebounding list. He passed Joe McCray (140, 2005), Andre Smith (144, 1978) and Shavon Shields (147, 2016) and Michael Jacobson (147, 2015).
Despite battling an illness, Cam Mack had eight points, eight assists and nine rebounds. He had eight assists and zero turnovers, marking his first game this season without committing a turnover.
Wisconsin hit 15 3-pointers in today's game after knocking down 18 triples in the first meeting this season. The Badgers are the only Husker opponent this season to make more than 13 3-pointers.
Wisconsin's Brad Davison went 8-for-11 from the 3-point line, tying the most 3-pointers made by a Husker opponent. It marked the ninth time a Husker opponent has made eight 3-pointers in a game. Davison's eight 3-pointers also tied the Pinnacle Bank Arena record (Malik Smith, Minnesota, 2014).
Nebraska Coach Fred Hoiberg
On how this game felt similar to the last one vs UW
"Yeah I did, we came out with great energy in the first half. I thought they shots [Wisconsin] hit in the first half were well contested. I thought the ball was moving exceptionally well in that first half, and we were getting what we wanted against a team that is one of the best defensive teams in the country. Even the possessions were we missed shots, they were great looks at the rim, or open threes. Then in the second half the urgency wasn't there. A lot of that was, again, due to our inability to finish at the rim. We were 1 for 11 at the rim between the second and third media timeouts, and what that does is really hurts your floor balance and your defensive transition. That's where a lot of those threes were made. Then we missed a couple rotations and we took the double team off and went down and double teamed, and missed the rotation again. So the concentration level has got to be stronger, it has to be more urgent when things aren't going well, when your going through one of those directions."
On Cam Mack and Dachon Burke's health
"Yeah Cam [Mack] was throwing up all last night, he came in and just watched the walk through all this morning and then went to the doctor, and they put a couple IV bags of fluid in him so he was game-time decision. Dachon [Burke] had his first workout yesterday and he was pretty worn out, he hadn't done anything since the day before Maryland and got sick and did not make that trip. So yesterday was his first day of any type of activity, so I'm proud of those guys for going out and trying to grind it out. Cam felt really good, I think those fluids really helped him before the game. It wasn't the same bug that Dachon [Burke] had, Brett Porter is going through it as well. So we've got it going around the locker room, hopefully it doesn't affect the rest of the guys."
On keeping focus after losing 10 games in a row
"We just got to keep grinding, we have got to keep coming out. The first half was really good basketball for us, again the broken record is sound the same every game, it's the consistency of our team. We have got to play 40 minutes, if we have any chance at all we have got got play a consistent 40 minutes of basketball."
Junior guard Thorir Thorbjarnarson
On three-point defense
"In the second half, especially when they started making those to extend the lead, we kind of got a little frustrated and kind of went away from what we were supposed to be doing, and that's on us. I think they got some looks, but they also made some ridiculous shots so I think we've got to give credit to them. They made,15 so we've got to give credit to them for some of those."
Senior guard Haanif Cheatham
On second-half struggles
"Yeah. I don't know what it is right now but this has made out to be a problem all season It has been up and down. We come out good one game with a good second half, next game we'll come out horrible. You never know what's going to be going on, but I figured that happened today and it's been a problem for us all season."
Defensive struggles affecting the offense
"I think once we struggle a little bit of defense, we try to get a 14-point play in one shot. We tried to do a little too much in back-to-back possessions and it kind of messes us up, kind of messes up the flow of the defense and offense. I think we've got to find a way to sustain it and be a tougher team."
Wisconsin Head Coach Greg Gard
On playing at Nebraska in a hostile atmosphere
Obviously happy for our guys, come in here in a tougher place to play. They're a team that can hurt you in a lot of different ways, but we responded in the second half, specifically defensively. It helps when shots go in, too, but the defensive end was where we made some steps forward in the second half. We were able to get them under control a bit and get some offense from our defense. Really good performances up and down our lineup, regardless of how many points they scored. We got contributions from everybody that got a chance to play.
On the second half adjustments
There was a lot of reminders of [the first game between the teams]. I think also that the foul trouble got us out of trouble a bit in the first half, so we had different lineups in there a little longer than normal. But in the second half we were much in tune defensively. We had to try to wear them down, guarding Cam Mack, that's a tough cover to keep him under control.
On going home with a win
"Look at the league. There's not a lot of us that are taking happy trips home after road games. We'll take them any way we can get them. Knowing how the crowd was going to be, and we were able to get the crowd out of it by playing well. Look at how they played. They've been competitive in most of their games, so we knew exactly what we had to do today to come out of here on top."