Snow squalls, a wall of white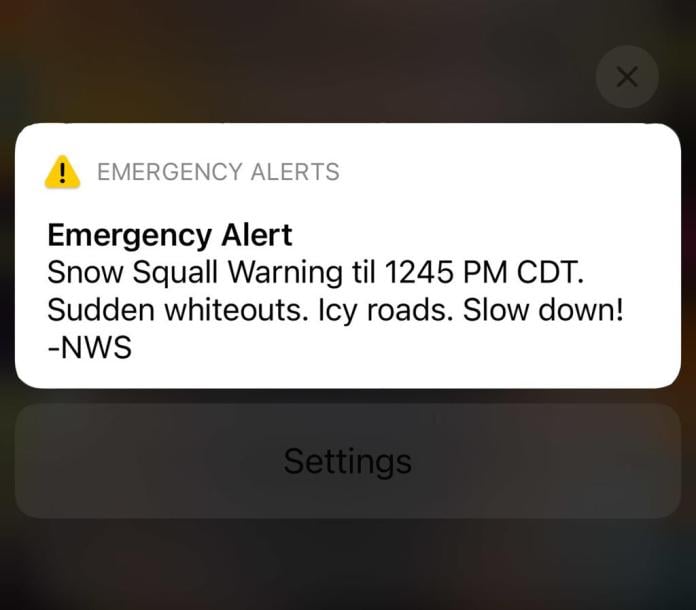 We finally saw the first snow of the season in Nebraska, but so did our friends across the river. However, things were a little different for those living in central Iowa on Monday.

Many Iowans received an emergency alert on their phone indicating a "Snow Squall Warning" Monday morning. It was accompanied by a note about whiteouts, icy roads and ended with "Slow Down!"
Ever heard of it? Probably not. It's not a very familiar term, as the National Weather Service only started issuing them nationwide in November of 2018.
So, what is a snow squall?
According to the National Weather Service, "a snow squall is an intense short-lived burst of heavy snowfall that leads to a quick reduction in visibilities and is often accompanied by gusty winds." There can be one main squall or multiple squalls, they are short lived and last between 30 and 60 minutes over a small area.
A snow squall warning is intended to warn drivers about sudden dangerous driving conditions, like whiteouts and slick roads.
Snow squalls can cause localized extreme impacts to the travelling public. Although snow accumulations are typically an inch or less, the added combination of gusty winds, falling temperatures and quick reductions in visibility can cause extremely dangerous conditions for motorists. Unfortunately, there is a long history of deadly traffic accidents associated with snow squalls.
But how is this different from a snow storm, blizzard or even flurries?
Snow squalls are short lived, usually less than an hour whereas snow storms could last a few hours or even days. Snow squalls are also distinct from flurries or blizzards. Flurries are light, intermittent snowfall that generally do not leave evidence on the ground. Blizzards are intense, with reduced visibility to a quarter-mile, winds of 35 mph and must maintain those conditions for at least 3 hours. A snow squall is none of those things-it's just a quick, heavy burst of snow.
Squalls are the worst of both flurries and blizzards. Unlike snowstorms, these short-lived phenomena can travel up to 60 mph and be in and out of an area in less than an hour. And unlike flurries, squalls can accumulate significant amounts of snow.
In short, if a snow squall warning is issued for your area, avoid or delay travel until the squall passes through your location. If you are already on the road, be sure to slow down, turn your headlights on and don't slam on the brakes!