'Too close for comfort': Lincoln resident has close encounter with coyote
And it was all caught on camera!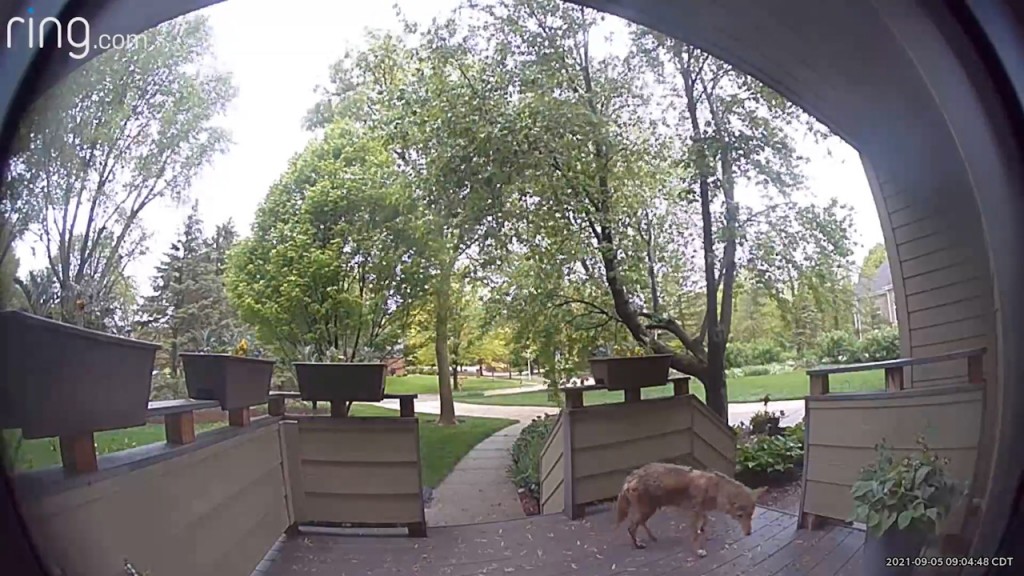 LINCOLN, Neb. (KLKN) – It's not unusual to see wildlife in your yard, but it's odd to see that wildlife at your doorstep.
Mother's Day morning, Julie Hoppe, was enjoying a cup of coffee on her special day when her dog Lucy started barking outside.
"I ran out to the garage to check on her and she is out in the middle of the driveway defending the property from a coyote," Hoppe said. "She literally chased it away."
Lucy was playing guard dog and protected her home and family from this bold coyote, an animal Hoppe has seen on many occasions along their property near 84th and 'A', but never has seen one that close.
"I told it to scat and get out of here and turned around and it looked at me like 'what are you doing here', 'I can be here'," Hoppe said. "It looked at me, walked a few feet, looked at me again."
When the coast was clear and the coyote was out of sight, Hoppe checked her Ring camera only to find it was originally standing on her porch, peaking inside of her front window.
The fact this coyote was so fearless is what concerns Hoppe for the safety of her fellow neighborhood animals.
"Nature is nature, we live out here for a reason so we can be apart of it," Hoppe said. "It's just really unusual to have it come on to your doorstep. They're usually a little more scared of humans, but these coyote's are getting a little bold."
Hoppe checked her Ring camera again 24 hours later and noticed that coyote had made its way to her porch once again.
Animal control says it's very rare for urban coyote's to get aggressive with people, but not totally out of the ordinary for domestic animals.
In the last year, two small dogs have lost their lives to coyote's in Lincoln, according to Lincoln Animal Control. Experts say it's important to keep your dog on a leash or in a fenced yard. They also advise pet owners not to leave dog or cat food outside, as that will attract the wildlife. If a coyote is ever to come too close, show its teeth or growl at you, that's when you should call Animal Control to assess the situation.
Officials says be prepared to start seeing more coyote's in your neck of the woods, it's mating season.